41%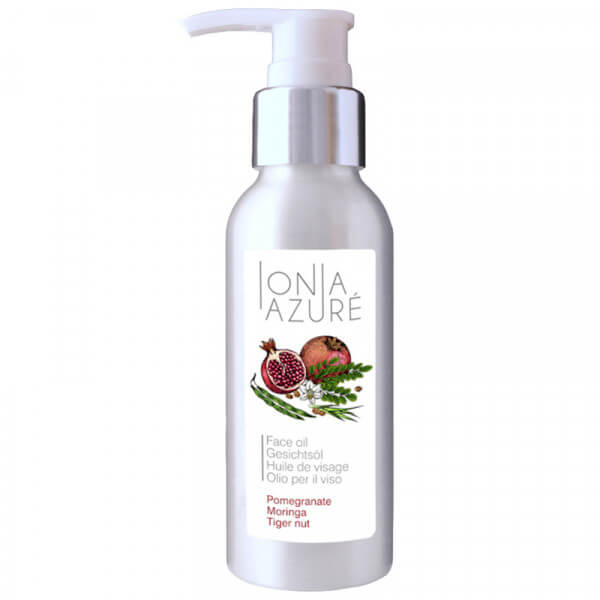 Price incl. VAT plus shipping costs
Basic price: CHF17.70 / 50 ml
Contents: 100 ml
Item number: SW22363
Available now 1–2 days (A-Post)
Ionia Azuré Face Oil The new Skincare Oils line from Ionia Azuré has finally reached us!...
more
Ionia Azuré Face Oil
The new Skincare Oils line from Ionia Azuré has finally reached us! Exclusively available from us. This new line has something for every need, choose your favourite from 12 products with 100% natural origin. What are you waiting for? Convince yourself of the new Skincare Oils from Ionia Azuré!

With the new face oil from Ionia Azuré you have found the ideal care for your facial skin! Thanks to its effective and caring ingredients, the facial oil is a true anti-aging miracle product. Pamper your skin with a moisturizer that will make your skin shine again!
Advantages
natural maintenance component
biological origin
Free from silicone
Free from alcohol
Free from preservatives
Free from parabens
Free from emulsifiers
Problem
Do you always have dry parts of your face? Do you have increased unpleasant feelings of tension in your face? Do you notice more and more often new wrinkles that you would rather not have? Then the new face oil from Ionia Azuré is just for you! It promotes cell renewal and thus supports the improvement of skin elasticity. Thanks to the various ingredients, your skin is moisturized not only from the inside but also from the outside! Say goodbye to your wrinkles and feelings of tension!
How does the Ionia Azuré face oil work?
The care oil has a moisturizing and regenerating effect on the skin. The skin tissue is supplied with moisture from the inside and cell regeneration is stimulated. This improves the skin's elasticity and reduces the formation of new wrinkles.
Composition
The face oil consists of 99.9% of three valuable organic oils, namely moringa oil (33.3% ), pomegranate seed oil (33.3% ) and tiger nut oil (33.3% ).
Moringa oil is considered a natural anti-aging agent and is packed with antioxidants that counteract the aging process and protect your skin from harmful environmental particles. It has a soothing effect on rashes, soothes itching and provides the skin with abundant moisture. It can even relieve pain from small wounds and burns.
Pomegranate seed oil, like Moringa oil, is full of antioxidants. These contribute to your skin not feeling tense and provide wrinkles with the necessary moisture from the inside. Thanks to its rejuvenating effect, even mature skin can shine in new freshness.
Tigernut oil is a very popular skin care oil. It stimulates the cell renewal of the skin and in this way strengthens the skin elasticity. Thus existing wrinkles are minimized and further wrinkle formation is reduced.
By combining the various effects of the oils, you have an ideal all-round care for your skin.
Beauty benefits
Smooth and supple skin
Rich moisturizing care
anti-aging effect
Versatile in application
Application
The Ionia Azuré facial oil works best when one or two drops are massaged into cleansed skin. If you want to use the oil as a day care, we recommend that you apply the oil sparingly several times a day instead of applying it generously once. As night care you can apply the oil generously on the skin.
If you have combination skin, apply the oil sparingly to the T-zone.

You can also integrate the care oil perfectly into your make-up routine.
To make your make-up look radiant and refine your skin texture, mix a small drop of the oil with your foundation.
Of course the face oil is also a great highlighter for the "nude look" if you don't want to apply make-up. You can apply it to your cheeks, nose tip and other places where you want to add a natural highlighting effect.
Skin type
Due to its caring effect, this oil is suitable for all skin types, especially for very dry and sensitive skin.
Origin
All products are manufactured and packaged in Switzerland.
Tip
Discover even more of the biological Ionia Azuré care oil products here!
| | |
| --- | --- |
| Brands: | Ionia Azuré |
| Product type: | Face oil |
| Requirements: | Anti-Aging, Calming, complexion refining, Deep repair, moisture, Refreshment, Regeneration, Relaxation, Skin firming, Smoothness |
| Skin type: | blemished skin, dry skin, mature skin, sensitive skin |
| Ingredients: | alcohol-free, biologisch, organic, paraben free, silicone free, sulphate free |
Links related to "Ionia Azuré Gesichtsöl"
Customer review for click&care: Ionia Azuré Gesichtsöl