41%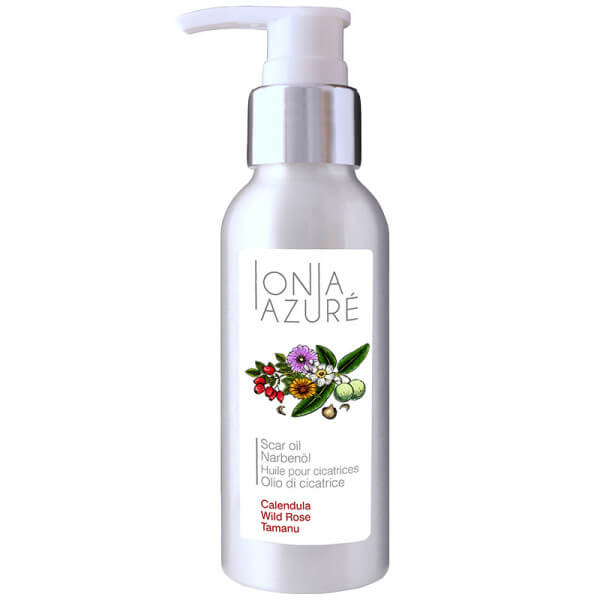 Price incl. VAT plus shipping costs
Basic price: CHF17.70 / 50 ml
Contents: 100 ml
Item number: SW22428
Available now 1–2 days (A-Post)
Ionia Azuré scar oil The new Skincare Oils line from Ionia Azuré has finally reached us!...
more
Ionia Azuré scar oil
The new Skincare Oils line from Ionia Azuré has finally reached us! Exclusively available from us. This new line has something for every need, choose your favourite from 12 products with 100% natural origin. What are you waiting for? Convince yourself of the new Skincare Oils from Ionia Azuré!
The new scar oil from Ionia Azuré combats scars and stretch marks in a natural way. It helps in the treatment of burns, scratches, acne, chickenpox as well as scars caused by operations. It repairs fresh scars and improves the appearance of existing scars.
Advantages
natural ingredients
improved skin elasticity
Regeneration of the skin
supports healing processes
for scars and wounds
paraben-free
without preservatives
unalcoholic
without emulsifiers
Problems
Do you have any scars and/or stretch marks that bother you? Do you notice more fresh cuts, wounds or scratches on you? Do you have acne scars that you would like to wish away? Have you had an operation recently or will you have one in the near future and don't want a big scar? Then give the new scar oil from Ionia Azuré a chance to amaze you! Due to its caring and effective ingredients it can be used in many different ways. No matter if scratches, scars, stretch marks - old or new, the oil helps you in every case!
How does the Ionia Azuré scar oil work?
The scar oil supports the regeneration of the skin, which leads to a visible improvement of the skin elasticity. It helps you to care for and reduce already existing scars. Stretch marks are absolutely normal and human, the scar oil helps you to minimize their appearance and reduce the formation of new stretch marks. The active ingredients contained in the scar oil stimulate the blood circulation, accelerate cell regeneration and support the healing and growth of new skin.
Composition
The scar oil is composed of three valuable organic oils, namely calendula oil (33.3%), wild rose oil (33.3%) and tamanu oil (33.3%).
Calendula oil is extracted from the marigold plant. It increases blood circulation and oxygen supply in the body. This means that cell regeneration can take place more quickly, thus supporting the growth of new skin and the healing of existing injuries/scarring.
The wild rose oil is full of essential fatty acids, which accelerate the repair of the skin and counteract scarring. It is a natural miracle cure for acne scars and superficial skin injuries. In addition, wild rose oil has an anti-inflammatory effect, which helps to soothe itching and redness of the skin.
Tamanu oil contributes to the increase of skin elasticity. It helps to reduce the formation of new stretch marks and stretch marks and to decrease the intensity of existing stretch marks.
Beauty benefits
improves the skin elasticity
deep moisturizing
Regeneration of the skin
reduces existing stretch marks/scars
supports the treatment of scars and stretch marks
inhibits itching and redness of the skin
do not complain
does not leave a greasy film
Application
We recommend using the scar oil two to three times a day for at least two months. Because the scar oil can be used in so many ways, the recommended application varies depending on the treatment you wish to undergo.
When caring for scars and fresh wounds, you should be aware that you should not apply the oil to open wounds! Start treatment only after the scab has fallen off. The effect is strongest on fresh scars. If you want to treat older scars with the scar oil, we recommend that you use the oil for a period of four months to achieve the best results.
When treating stretch marks, the oil is ideal for the prevention of new stretch marks (for example, during pregnancy). Start early with the application for visible results. If you want to treat existing stretch marks, we recommend that you use the scar oil regularly for four months.
When treating burns, you should cool the affected area of skin with cold water for 15 minutes. Then dry the skin and massage the area with scar oil several times a day.
Skin type
Thanks to its natural ingredients, the scar oil is suitable for all skin types.
Origin
All products are produced and bottled in Switzerland.
Tip
Discover here even more of the biological Ionia Azuré care oil products!
| | |
| --- | --- |
| Brands: | Ionia Azuré |
| Product type: | Body oil |
| Requirements: | anti-stretch marks, Deep repair, moisture, Skin firming, texture, structure |
| Skin type: | blemished skin, combination skin, dry skin, greasy skin, mature skin, normal skin, sensitive skin |
| Ingredients: | alcohol-free, biologisch, organic, paraben free, silicone free, sulphate free |
| Scalp: | dry, greasy, sensitive |
Links related to "Ionia Azuré Narbenöl"
Customer review for click&care: Ionia Azuré Narbenöl