41%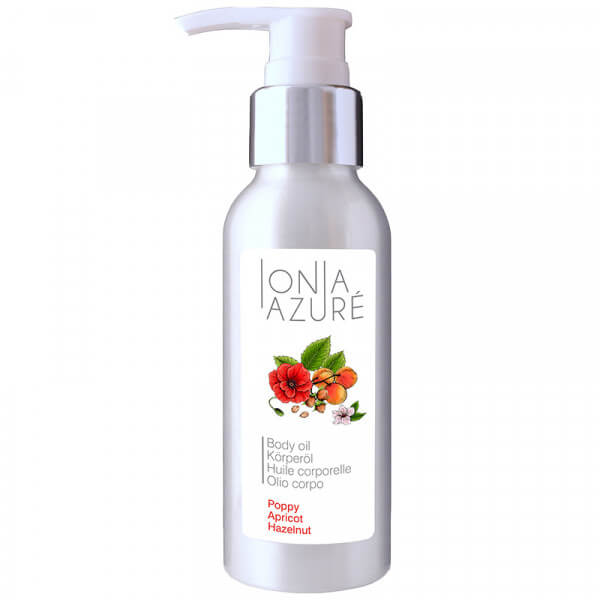 Price incl. VAT plus shipping costs
Basic price: CHF17.70 / 50 ml
Contents: 100 ml
Item number: SW22415
Available now 1–2 days (A-Post)
Ionia Azuré Body Oil The new Skincare Oils line from Ionia Azuré has finally reached us!...
more
Ionia Azuré Body Oil
The new Skincare Oils line from Ionia Azuré has finally reached us! Exclusively available from us. This new line has something for every need, choose your favourite from 12 products with 100% natural origin. What are you waiting for? Convince yourself of the new Skincare Oils from Ionia Azuré!
The new body oil from Ionia Azuré is a true multi-tasker when it comes to body care. It provides dry skin with abundant moisture and soothes itchiness caused by irritation and redness. Say hello to a well-groomed and smooth skin!
Advantages
Ingredients of natural origin
Cares and soothes the skin
abundant moisturising care
Visibly better skin elasticity
Alleviates itching/redness
Without preservatives
Without alcohols
Without silicones
Without emulsifiers
No parabens
Pure oil care
Problem
Do you notice how your skin loses moisture and firmness? Do you have a lot of redness and annoying itching due to dry skin? Does your skin not look well cared for? Do you want an effective but natural body care product that leaves your skin soft and smooth? Then the wait is over thanks to the new body oil from Ionia Azuré! The new body oil moisturizes your dry and irritated skin without weighing it down! Say goodbye to annoying itching and painful redness!
How does the Ionia Azuré body oil work?
The body oil provides your various skin layers with plenty of moisture so that they can be rebuilt from within. Your entire skin texture is improved and your well-being is strengthened! The rich care prevents redness and dry spots, so that you are free of unpleasant itching.
Composition
The body oil is composed of three valuable organic oils, namely poppy seed oil (33.3%), hazelnut oil (33.3%) and apricot oil (33.3%).
The valuable poppy seed oil provides your skin with such a high level of moisture that any loss of moisture is prevented, so that your skin remains soft and well cared for. Thanks to its light base, the poppy seed oil does not clog your pores and helps to maintain the balance of your sebum production. In addition, it has a regenerating effect, it stimulates the renewal of your cells, so that your stressed skin can shine again with full freshness!
Hazelnut oil is a very gentle oil, which is ideal for sensitive skin. It is rich in antioxidants, which protects your skin from inflammation and the many environmental influences. It is proven that hazelnut oil has many effects, including an anti-aging effect. It supports the regeneration of the skin and leaves the skin looking younger and healthier with constant use!
The apricot oil is very gentle and is therefore ideal for irritated and dry skin. Thanks to its light composition it does not weigh down the skin. Thanks to its lightness, it penetrates very well and quickly, leaving your skin with a velvety soft and smooth finish. Because it is quickly absorbed by your skin, your skin is provided with long-lasting moisture immediately after application.
Thanks to the combination of the different oils, you have a powerful and effective all-round care for your dry and irritated skin.
Beauty benefits
Promotes skin elasticity
Deeply moisturising care
Smooth and fresh skin
anti-aging effect
Inhibits the formation of redness
Alleviates itching
Do not weigh down
Application
The body oil works best on cleansed skin. After the shower, dry your skin normally and apply two to six drops of the body oil to your skin, as you wish.
In addition, you can integrate the body oil into your shower routine so that its effect is enhanced.
Skin type
Thanks to its gentle and light ingredients the body oil is suitable for all skin types. We especially recommend it for dry and reddened skin, which often suffers from itching.
Origin
All products are produced and packed in Switzerland.
Tip
Discover here even more of the biological Ionia Azuré care oil products!
| | |
| --- | --- |
| Brands: | Ionia Azuré |
| Product type: | Body oil |
| Requirements: | Anti-Aging, Calming, moisture, Refreshment, Relaxation, Skin firming, Smoothness |
| Skin type: | blemished skin, combination skin, dry skin, greasy skin, mature skin, normal skin, sensitive skin |
| Ingredients: | alcohol-free, biologisch, organic, paraben free, silicone free, sulphate free |
Links related to "Ionia Azuré Körperöl"
Customer review for click&care: Ionia Azuré Körperöl