41%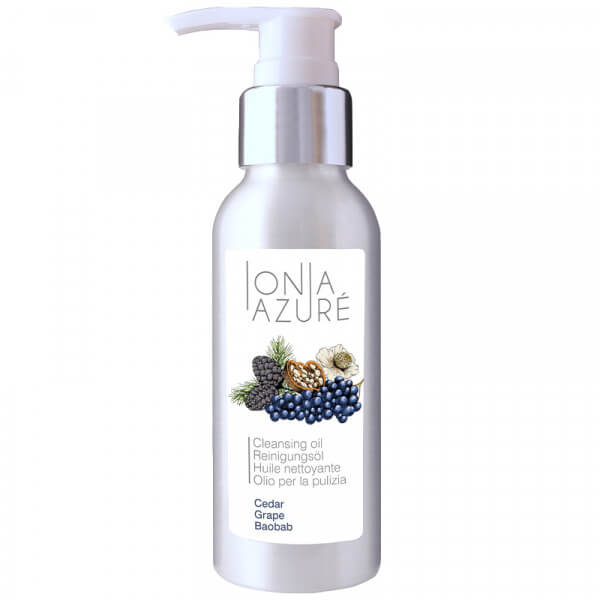 Price incl. VAT plus shipping costs
Basic price: CHF17.70 / 50 ml
Contents: 100 ml
Item number: SW22420
Available now 1–2 days (A-Post)
Ionia Azuré cleaning oil The new Skincare Oils line from Ionia Azuré has finally reached...
more
Ionia Azuré cleaning oil
The new Skincare Oils line from Ionia Azuré has finally reached us! Exclusively available from us. This new line has something for every need, choose your favourite from 12 products with 100% natural origin. What are you waiting for? Convince yourself of the new Skincare Oils from Ionia Azuré!
The new cleansing oil from Ionia Azuré is the ideal caring cleansing for your face! The oil is inspired by the principle "like solves like". Your skin is freed from dirt, make-up and other impurities and at the same time is provided with the necessary lipids (fats). The supply of lipids ensures that sebum production is inhibited, which prevents the formation of impurities.
Advantages
Natural composition
Cleanses and cares for the skin
Effective cleaning
Prevents skin impurities
pure oil purification
"Like solves like" principle
paraben-free
unalcoholic
without emulsifiers
no preservatives
Problem
Do you clean your skin with aggressive products but see no improvement? Do you have dry and tense skin due to strong care products? Do you want to fight your impurities effectively without harming your skin? Then the new cleansing oil from Ionia Azuré is your new must-have product! The cleansing oil effectively cleanses your skin, frees your skin glands from unnecessary sebum and provides your skin with the necessary moisture.
How does the Ionia Azuré cleansing oil work?
The cleansing oil removes all dirt, make-up and impurities in a caring and non-aggressive way. When applied, the oil binds with the sebum on the skin surface and other impurities, so that your pores are free again and yet still receive care. It does not leave a greasy or sticky film and can be rinsed off easily.
Composition
The cleansing oil is composed of three valuable organic oils, namely grape seed oil (33.3%), baobab oil (33.3%) and cedar nut oil (33.3%).
Grape seed oil is a very light oil, which does not clog your pores in any way. It binds with unnecessary sebum and impurities on the skin and removes them when washed off with water. This prevents the formation of new impurities as your pores are free and can breathe again without drying out. The grape seed oil also contains vitamin C, which promotes the cell regeneration of the skin.
Baobab oil is considered a little secret in skin care. It is a rare and natural oil, which has a high concentration of fatty acids such as Omega 6 and Omega 9. This plays a major role in strengthening the skin's lipid barrier and normalising skin metabolism. It helps to improve the sebaceous gland function and prevent impurities.
Cedar nut oil contains a very effective component, namely pinolenic acid, which is known for its anti-inflammatory effect. In addition, the oil contains many other valuable components, such as amino acids and vitamin E, which are indispensable for the care of healthy skin. The cedar nut oil and its powerful contents help to reduce inflammation and accelerate the healing of wounds.
By combining the different oils, you have a powerful and effective all-round care for your stressed and mature skin.
Beauty benefits
Promotes the regeneration of the skin
Plenty of moisturizing care
Radiant and healthy skin
Has an anti-inflammatory effect
Inhibits the formation of impurities
Do not complain
Does not leave a greasy film
Application
For the cleansing you need the cleansing oil and a washcloth. It is important that you apply the cleansing oil on dry skin! It is enough to use about half a teaspoon to a whole teaspoon of the cleansing oil, which you then apply evenly to your skin and massage in. Leave it on for a few minutes so that it can dissolve any dirt and make-up. To wash it off, moisten the washcloth and place it on your face. The water vapour that is created will dissolve the oil with the impurities (no rubbing is necessary, just wait). Then you rinse the washcloth under hot water and repeat the process until you feel that all the oil has been removed.
Pro Tip: If your skin feels dry despite the gentle cleansing, you can easily apply a drop of the cleansing oil and thus additionally care for your skin.
Skin type
Thanks to its mild and light ingredients, the cleansing oil is suitable for all skin types. We especially recommend it for dry and impure skin.
Origin
All products are produced and bottled in Switzerland.
Tip
Discover here even more of the biological Ionia Azuré care oil products!
| | |
| --- | --- |
| Brands: | Ionia Azuré |
| Product type: | Face oil |
| Requirements: | Calming, Cleansing, Mattification, moisture, Refreshment, Relaxation |
| Skin type: | blemished skin, combination skin, dry skin, greasy skin, mature skin, normal skin, sensitive skin |
| Ingredients: | alcohol-free, biologisch, organic, paraben free, silicone free, sulphate free |
Links related to "Ionia Azuré Reinigungsöl"
Customer review for click&care: Ionia Azuré Reinigungsöl