P

for Points
alcohol-free

Argan oil

biologisch

Marula oil

organic

paraben free

silicone free

sulphate free
41%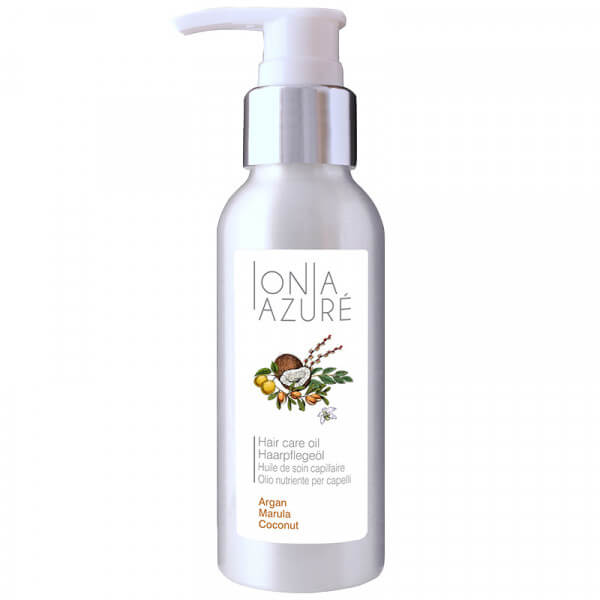 Price incl. VAT plus shipping costs
Basic price: CHF17.70 / 50 ml
Contents: 100 ml
Item number: SW22423
Available now 1–2 days (A-Post)
Ionia Azuré hair care oil The new Skincare Oils line from Ionia Azuré has finally reached...
more
Ionia Azuré hair care oil
The new Skincare Oils line from Ionia Azuré has finally reached us! Exclusively available from us. This new line has something for every need, choose your favourite from 12 products with 100% natural origin. What are you waiting for? Convince yourself of the new Skincare Oils from Ionia Azuré!
The new hair care oil from Ionia Azuré is the ideal natural care for your hair!
The three forerunners of natural hair care have been combined for healthy and radiant hair. Thanks to the combination of argan oil, coconut oil and marula oil, your hair is provided with all the nutrients needed for healthy and strong hair. It also helps to minimize dandruff and protects your hair from heat and sun.
Advantages
Natural active ingredients
Beautiful healthy hair
Normalizes oily scalp
Deeply effective moisture care
Prevents dandruff formation
pure oil care
paraben-free
unalcoholic
without emulsifiers
without preservatives
Counteracts hair loss
Heat and sun protection
fragrance-free
Problem
Is your hair dry and brittle? Doesn't your hair feel healthy and smooth despite careful care? Do you belong to those who have a quickly greasy hairline? Would you prefer a natural care which cares effectively without complaining? Do you often notice how your hair falls out more and more? Then your search has come to an end! The new hair care oil from Ionia Azuré combines effective care with natural cosmetics.
How does the Ionia Azuré hair care oil work?
The hair care oil pampers your hair with rich minerals, antioxidants, lipids and vitamins. These nourish the hair follicles so that every hair is provided with the necessary moisture and care. The oils help to normalize oily scalp, for a longer lasting freshness of the hairline. By also moisturizing the scalp, the oil counteracts the formation of dandruff on the scalp. In addition, the hair oil can also be used as a protection against heat and sun, as it builds up a nourishing layer around the individual hair.
Composition
The hair care oil is composed of three valuable organic oils, namely argan oil (33.3%), marula oil (33.3%) and coconut oil (33.3%).
The three valuable oils all come from organic cultivation and are cold-pressed so that the natural active ingredients remain contained in the care oil and do not lose any of their power.
Through the carefully selected combination of the different oils, you have a powerful and effective all-round care for your dry and stressed hair and scalp.
The hair care oil is fragrance-free and smells slightly of natural coconut.
Beauty benefits
Protects your hair from heat and sun
Plenty of moisturizing care
Radiant and healthy hair
Acts against oily scalp
Inhibits the formation of dandruff
Do not complain
Does not leave an oily film
Perfume-free
Natural coconut scent
Application
The hair care oil can be used multifunctional thanks to its caring contents. With the care oil you can care for your hair, your nails and your skin.
One or two drops are sufficient for hair care, which you then distribute in dry or wet hair. If you would like a more "intensive" treatment, you can simply spread a larger amount of the hair care oil in the hair and, depending on the time, leave it on for either half an hour or overnight. The oil can then be easily washed out with a mild shampoo.
You can use the hair care oil without any problems as a daily styling or as a conditioner after hair washing.
For skin care, we recommend that you clean your skin before use. Then apply a small amount of the oil to the skin and massage it in circular movements. You can repeat this procedure as often as you like.
Skin type
Thanks to its nourishing ingredients, the hair care oil is ideally suited for all skin/hair types.
Origin
All products are manufactured and packed in Switzerland.
Tip
Discover here even more of the biological Ionia Azuré care oil products!
| | |
| --- | --- |
| Brands: | Ionia Azuré |
| Product type: | hair oil |
| Requirements: | Deep repair, moisture, Regeneration, shine, Smoothness, texture, structure |
| Hair type: | blonde, bleached hair, brittle hair, damaged hair, damaged hair, dry hair, fine hair, greasy hair, mature hair, normal hair, strong, thick hair |
| Skin type: | dry skin, normal skin, sensitive skin |
| Ingredients: | alcohol-free, Argan oil, biologisch, Marula oil, organic, paraben free, silicone free, sulphate free |
| Scalp: | dry, greasy, sensitive |
Links related to "Ionia Azuré Haarpflegeöl"
Customer review for click&care: Ionia Azuré Haarpflegeöl