Re/Start Density Fortifying Weightless Conditioner - 750ml
20%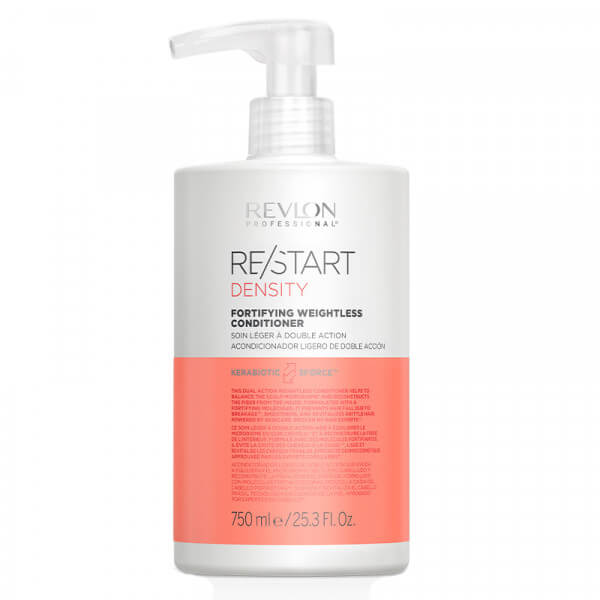 Price incl. VAT plus shipping costs
Basic price: CHF6.39 / 100 ml
Contents: 750 ml
Item number: SW23855
Available now 1–2 days (A-Post)
Re/Start Density Fortifying Weightless Conditioner - 750ml The salon size Fortifying...
more
Re/Start Density Fortifying Weightless Conditioner - 750ml
The salon size Fortifying Conditioner from the Density line gives you healthy and fuller hair! The entire Density product line has been specially developed to meet the needs of weak and damaged hair. Thanks to combined active ingredients from hair and skin care, they have a double effect: against hair loss by acting on the scalp and at the same time against hair breakage by optimally nourishing the hair fibre. Due to its high-quality formulation, the conditioner smoothes brittle hair and revitalizes brittle and weak hair areas. The conditioner is very light and does not weigh down the hair. Formulated with strengthening molecules, damaged and brittle hair is deeply nourished and built up. Weak and fine hair gets new strength and hold. The hair receives intensive moisture care and becomes supple and soft.
Advantages
No weighing down
Revitalizes fine hair
Healthy hair growth
Smoothes brittle hair fibers
Strengthens hair structure
Prevents and combats hair loss
Highly effective ingredients
Keeps scalp in balance
Against dry scalp
Provides moisture
Dermatologically tested
Dual action hair and scalp system
Hair Type
Revlon's new Re/Start Density hair care line is specially formulated for healthier, fuller hair. Fortyfing Weightless Conditioner is ideal for fine and weak hair that would like more volume and strength and suffers from hair damage.
Problem
Is your hair loss getting to you? Do you have thin and weak hair? Would you like to have a full head of hair again? Is your hair breaking off quickly? Does your hair feel dry and stressed? Do you need a salon size conditioner right away?then we can recommend the new Revlon Re/Start Density Weightless Fortyfying Conditioner. This dual action conditioner helps keep your scalp microbiome in balance while revitalizing brittle and damaged hair.
Directions
Cleanse your hair with Re/Start Density Fortifying Micellar Shampoo. Then take a small amount of conditioner and apply to lengths and ends. Let it sit for a moment and then rinse thoroughly. We recommend that you use all of the Re/Start Density products to achieve a better result.
Tip
Discover here our wide range of new products from the Re/Start Density care line from Revlon at clickandcare.ch
| | |
| --- | --- |
| Brands: | Revlon Professional |
| Product line: | ReStart Density |
| Product type: | conditioner |
| Requirements: | Combing, Deep repair, hair growth, anti-hair loss, moisture, Regeneration, shine, Smoothness |
| Hair type: | brittle hair, dry hair, fine hair, mature hair, normal hair, split ends, strong, thick hair |
Links related to "Re/Start Density Fortifying Weightless Conditioner - 750ml"
Customer review for click&care: Re/Start Density Fortifying Weightless Conditioner - 750ml