Re/Start Density Anti-Hair Loss Professionals Vials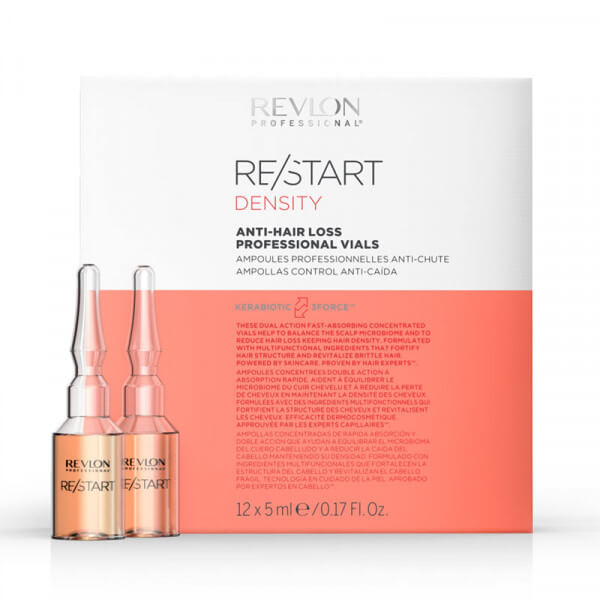 Price incl. VAT plus shipping costs
Contents: 60 ml
Item number: SW23562
Available now 1–2 days (A-Post)
Re/Start Density Anti-Hair Loss Professional Vials - 12x 5ml The new anti-hair loss vials from...
more
Re/Start Density Anti-Hair Loss Professional Vials - 12x 5ml
The new anti-hair loss vials from the Density care line give you healthier and fuller hair! The entire Density product line has been specially developed to meet the needs of weak and damaged hair. Thanks to the combination of active ingredients from hair and skin care, they work twice: against hair loss by acting on the scalp and at the same time against hair breakage by optimally nourishing the hair fibre. The fast-absorbing ampoules balance the scalp's microbiome, which promotes the growth of healthy and strong hair. In addition, the hair structure is strengthened as the concentrated ampoules penetrate deep into the hair fiber and supply the hair with important nutrients. Weak and fine hair is given a new strength and structure. Formulated with strengthening molecules, damaged and fragile hair is deeply nourished and built. The ampoules promote the maintenance of a full hair density, at the same time the hair receives intensive moisturizing care and becomes supple and soft.
Advantages
Does not weigh down
Revitalizes fine hair
Healthy hair growth
Smoothes brittle hair fibers
Strengthens hair structure
Highly effective ingredients
Prevents hair loss
Keeps scalp in balance
Against dry scalp
Moisturizes
Dermatologically tested
Dual action hair and scalp system
Against hair loss
Relieves itching
Suppleness
Intensive treatment
Daily application
Immediate effect
Hair type
Revlon's new Re/Start Density hair care line is specially formulated to treat fine and weak hair. The Density Anti-Hair Loss Professional Vials give your scalp & hair intensive care and promote healthy and strong hair growth, for incredible and full hair density.
Problem
Do you have thin and weak hair? Is your hair loss getting to you? Do you notice how your hair is getting finer and weaker? Do you want to have full and thick hair again? Is your hair breaking off quickly? Then we can recommend the new Revlon Re/Start Density Anti-Hair Loss Professional Vials. These highly concentrated vials will help revitalize your damaged hair and improve your hair density. They help you balance the scalp microbiome while strengthening brittle and stressed hair.
Directions
Take the entire contents of one bottle and apply to scalp while hair is wet. Massage gently and style your hair as desired. The ampoules are a leave-in treatment and do not need to be rinsed out. We recommend using the entire Re/Start Density product range for better results.
Tip
Discover here our wide range of new products from the Re/Start Density care line from Revlon at clickandcare.ch
| | |
| --- | --- |
| Brands: | Revlon Professional |
| Product line: | ReStart Density |
| Requirements: | Combing, Deep repair, moisture, Regeneration, shine, Smoothness, texture, structure |
| Hair type: | brittle hair, coloured, dyed hair, dry hair, fine hair, mature hair, normal hair, split ends, strong, thick hair |
| Scalp: | dry, greasy, normal, sensitive |
Links related to "Re/Start Density Anti-Hair Loss Professionals Vials"
Customer review for click&care: Re/Start Density Anti-Hair Loss Professionals Vials