Antioxidant Skin Cream (50ml)

P

for Points
Argan oil

free from artificial colourings

free from artificial fragrances

not tested on animals

organic

paraben free

silicone free

sulphate free

vegan
31%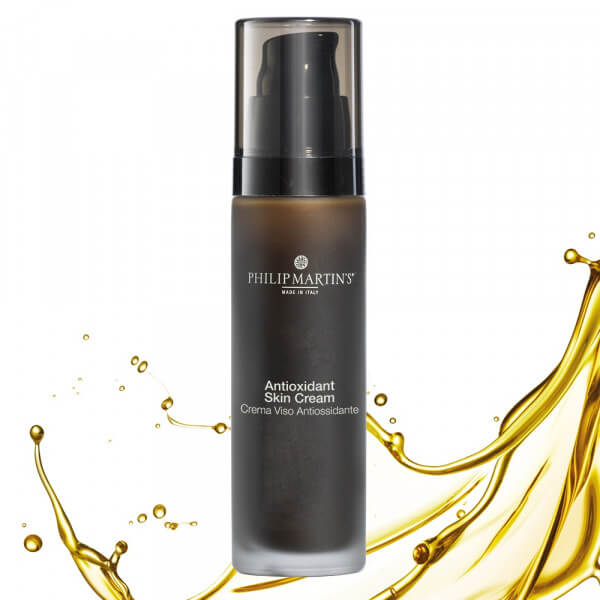 Price incl. VAT plus shipping costs
Basic price: CHF156.80 / 100 ml
Contents: 50 ml
Item number: SW17235
Available now 1–2 days (A-Post)
Prevent skin aging with the right care. This is what the Antioxidant Skin Cream from Philip...
more
Prevent skin aging with the right care. This is what the Antioxidant Skin Cream from Philip Martin's is for, which is gentle, moisturizing and protective. Not only does it protect the skin from aging, but its high quality and luxurious ingredients protect the skin from the damage caused by environmental pollution and external negative effects. Any free radicals are neutralized with this unique face cream. Furthermore, this cream manages to regulate the moisture level of your skin by itself, so that it is always sufficiently hydrated. With a daily application the skin can be kept elastic, fresh and radiant.
Advantages
Antioxidant face cream
Can be used as day and night cream
Gives moisture
Provides protection against free radicals
Regulates moisture in the skin
Ingredients from purely natural and organic origin
Without sulphates, parabens, propylene glycol and PEGs
Skin type
This face cream is suitable for all skin types. It moisturizes the skin and has many benefits for every skin type. It also protects the skin from aging and is good for all skin types. Because the cream is purely natural, it is also suitable for sensitive skin and does not irritate it.
Problem
Are you looking for a nourishing face cream that provides your skin with sufficient moisture around the clock? The Antioxidant Skin Cream contains a self-regulating moisture balance that allows the skin to benefit from this moisture all day long? Should your skin be protected and protected from negative influences? It contains the ultimate protection that prevents free radicals that cause skin to age. It is also protected from all the negative environmental influences. The substances that are harmful to the skin are automatically neutralized by Philip Martin's high quality natural ingredients. Do you want to do without non-natural ingredients and do not want to let sulphates, parabens and the like get on your skin? Then this brand is an absolute must for you.
Composition
The philosophy of Philip Martins is not to use any non-natural ingredients and to draw all the effects of the cream from purely organic ingredients. That is why this vegan brand does not use any additives, artificial fragrances or colourings, as well as silicones or parabens.
Application
You can use the Antioxidant Skin Cream in the morning and in the evening. Apply to the face and neck. When applying, make sure you spread it in a circular motion upwards. This helps the cream to be absorbed by the skin and the ingredients have an improved effect.
| | |
| --- | --- |
| Brands: | Philip Martin's |
| Product line: | Philip Martin's Skin Care |
| Product type: | Day cream, Night cream |
| Requirements: | moisture |
| Ingredients: | Argan oil, free from artificial colourings, free from artificial fragrances, not tested on animals, organic, paraben free, silicone free, sulphate free, vegan |
Links related to "Antioxidant Skin Cream (50ml)"
Customer review for click&care: Antioxidant Skin Cream (50ml)