Ionia Azuré Revitalisierungsöl
41%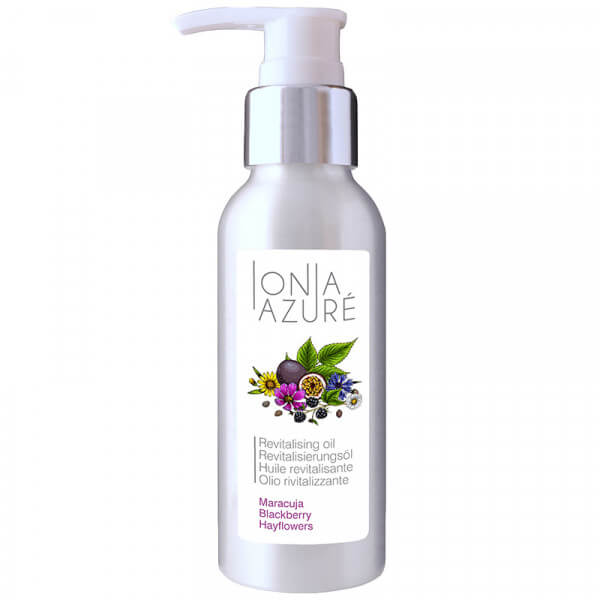 Price incl. VAT plus shipping costs
Basic price: CHF17.70 / 50 ml
Contents: 100 ml
Item number: SW22413
Available now 1–2 days (A-Post)
Ionia Azuré Revitalizing Oil The new Skincare Oils line from Ionia Azuré has finally...
more
Ionia Azuré Revitalizing Oil
The new Skincare Oils line from Ionia Azuré has finally reached us! Exclusively available from us. This new line has something for every need, choose your favourite from 12 products with 100% natural origin. What are you waiting for? Convince yourself of the new Skincare Oils from Ionia Azuré!

The new revitalizing oil from Ionia Azuré provides your stressed skin with a rich and deep moisturizing care with anti-aging effect!
Advantages
natural ingredients
Revitalization of the skin
Tightens and cares for the skin
Intensive moisturizing care
Improved skin elasticity
Anti-Aging
No parabens
without preservatives
No silicones
No alcohols
No emulsifiers
Problem
Do you notice how your skin loses its firmness and elasticity? Do you often notice small lines and wrinkles? Does your skin no longer look so fresh and well cared for? Then you are in the right place! The new revitalizing oil from Ionia Azuré provides your stressed skin with deep-acting moisture. Your skin is nourished from the inner layers of the skin and your skin elasticity is regenerated.
How does the Ionia Azuré Revitalizing Oil work?
The revitalizing oil provides your skin layers with plenty of moisture and rebuilds them from the inside out. Your skin elasticity is improved and your skin texture is refined again. Due to the rich care, fine lines are filled in from the inside and wrinkles are reduced. Your skin is provided with the necessary care and your skin texture is strengthened so that it can shine again!
Composition
The revitalising oil is composed of three valuable organic oils, namely passion fruit oil (33.3%), blackberry seed oil (33.3%) and hay flower oil (33.3%).
Passion fruit oil nourishes your skin with plenty of vitamins A and C and essential fatty acids. Through these ingredients your skin can be cared for immediately. The oil is quickly absorbed and does not leave an unpleasant greasy film. Your skin surface is given a healthy finish.
Blackberry seed oil is rich in omega 3, 6 and 9 and important antioxidants. Thanks to these properties, blackberry seed oil is a true friend for mature and stressed skin! It helps to nourish the different layers of the skin and to regenerate the skin's elasticity, for a radiant complexion.
The hay flower oil is extracted from the hay flowers. It has a soothing effect and promotes the blood circulation of the skin, which is ideal for mature skin. In addition, it has a caring and regenerating effect so that your skin receives the necessary care.
Through the interaction of the different oils, you have a powerful and effective all-round care for your stressed and mature skin.
Beauty benefits
Regenerates the skin's elasticity
Deeply effective care
Rich skin care for more vitality
Smooth and fresh skin
Inhibits the formation of wrinkles
Reduces existing fine lines
Application
The revitalizing oil works best on cleansed skin. The revitalizing oil of Ionia Azuré can be used as skin care as well as scalp care.
One to two drops are sufficient for skin care, which you then massage in. We recommend to use it as night care.
For scalp care, one or two drops of the revitalizing oil are also sufficient. For best results, leave the oil on overnight.
Skin type
Thanks to its caring ingredients, the revitalizing oil is suitable for all skin types. We especially recommend it for mature and stressed skin.
Origin
All products are manufactured and packed in Switzerland.
Tip
Discover here even more of the biological Ionia Azuré care oil products!
| | |
| --- | --- |
| Brands: | Ionia Azuré |
| Product type: | Face oil |
| Requirements: | Anti-Aging, Deep repair, moisture, Refreshment, Relaxation, Skin firming |
| Skin type: | dry skin, mature skin, normal skin, sensitive skin |
| Ingredients: | alcohol-free, biologisch, organic, paraben free, silicone free, sulphate free |
| Scalp: | dry, greasy, sensitive |
Links related to "Ionia Azuré Revitalisierungsöl"
Customer review for click&care: Ionia Azuré Revitalisierungsöl