41%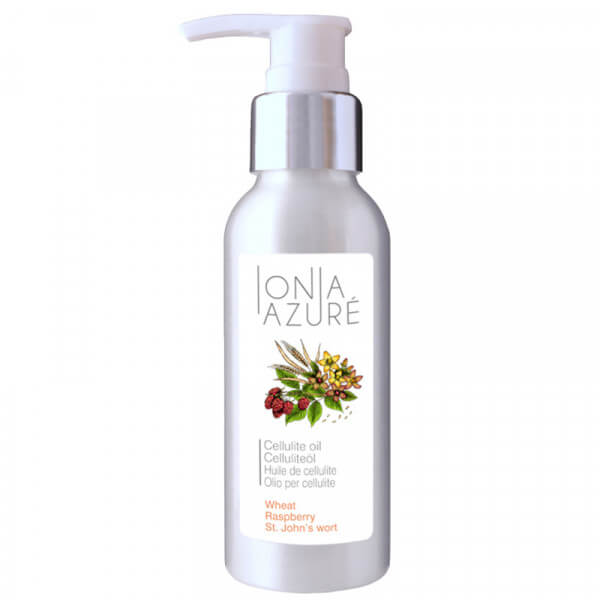 Price incl. VAT plus shipping costs
Basic price: CHF17.70 / 50 ml
Contents: 100 ml
Item number: SW22361
Available now 1–2 days (A-Post)
Ionia Azuré Cellulite Oil The new Skincare Oils line from Ionia Azuré has finally reached...
more
Ionia Azuré Cellulite Oil
The new Skincare Oils line from Ionia Azuré has finally reached us! Exclusively available from us. This new line has something for every need, choose your favourite from 12 products with 100% natural origin. What are you waiting for? Convince yourself of the new Skincare Oils from Ionia Azuré!
With the new cellulite oil from Ionia Azuré you have found your ally in the fight against annoying orange peel skin. The oil effectively fights cellulite from the inside and outside at the same time and helps you to regain a smooth and beautiful skin surface.
Advantages
natural constituents
biological origin
without silicones
without alcohol
no preservatives
paraben-free
without emulsifiers
Problem definition
Your dents don't let you enjoy your beach holidays? Do they sometimes make you feel a little uncomfortable? Would you have liked to have wished them away more than once? Do you also not want to have to decide between natural ingredients and effectiveness? Then the new Ionia Azuré cellulite oil will be your new favourite! Every woman knows this problem - but she no longer has to! Thanks to the new Ionia Azuré cellulite oil, these worries are a thing of the past.
How does the Ionia Azuré cellulite oil work?
The oil has a firming, smoothing effect. It provides the skin with abundant moisture from within. Due to its effective ingredients, it has a draining and circulation-promoting effect on the applied areas.
Composition
The cellulite oil consists of 99.9% of three valuable organic oils, namely raspberry seed oil (33.3% ), wheat germ oil (33.3% ) and St. John's wort oil (33.3% ).
St. John's wort oil is extracted from the St. John's wort plant and has two effects: On the one hand, it has a strong blood circulation stimulating effect and on the other hand, it helps with drainage. Both functions are extremely important for the treatment of cellulite, as one cause of cellulite is poor circulation, which in turn leads to the accumulation of fluid in the body. St. John's wort therefore fights not only the symptom but also the cause.
The raspberry seed oil has a high content of unsaturated fatty acids and therefore has a very anti-inflammatory effect.
The wheat germ oil, also known as "liquid gold", supports the natural elasticity of the skin and its blood circulation. In addition, it makes the skin look firmer and more youthful. The oil is also ideal during pregnancy and especially for dry skin, as it counteracts stretch marks and provides the skin with plenty of moisture.
Due to the high concentration of the oils, they can prove their impressive effect.
Beauty benefits
Smooth and supple skin
Stimulated blood circulation
Helps the skin regain its original elasticity
Has a draining effect
Brings well-being
Application
The cellulite oil of Ionia Azuré works best when it is massaged into the skin. You apply a generous amount to the affected area of skin and massage it with a special cellulite massage tool. You alternate between small and large circular movements until the treated area feels pleasant. Massage with moderate pressure so that it feels good for you. You can repeat this process until you have treated all your problem areas.
Skin type
Due to its caring effect, this oil is suitable for all skin types.
Origin
All products are manufactured and packed in Switzerland.
Tip
Discover even more of the biological Ionia Azuré care oil products here!
| | |
| --- | --- |
| Brands: | Ionia Azuré |
| Product type: | Body oil |
| Requirements: | Anti-Cellulite, anti-stretch marks |
| Skin type: | dry skin |
| Ingredients: | alcohol-free, biologisch, organic, paraben free, silicone free, sulphate free |
Links related to "Ionia Azuré Celluliteöl"
Customer review for click&care: Ionia Azuré Celluliteöl