Revlon Magnet Pollution Neutralizer - 475ml
30%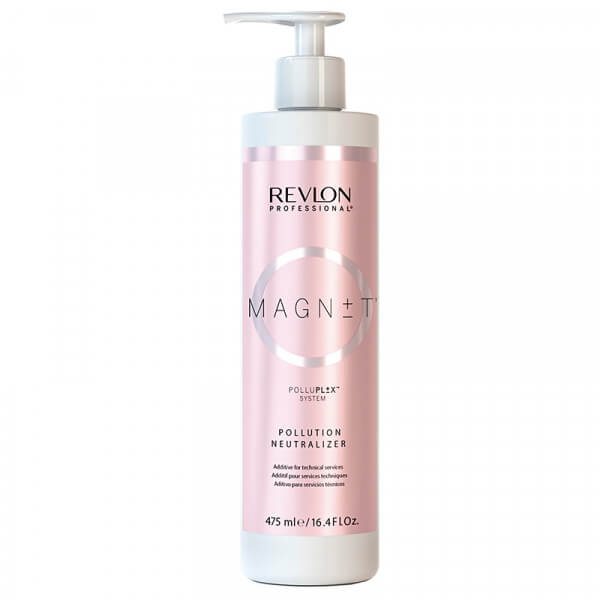 Price incl. VAT plus shipping costs
Basic price: CHF7.37 / 100 ml
Contents: 475 ml
Item number: SW21394
Available now 1–2 days (A-Post)
Revlon Magnet Pollution Neutralizer - 475ml The Revlon Magnet Pollution Neutralizer from...
more
Revlon Magnet Pollution Neutralizer - 475ml
The Revlon Magnet Pollution Neutralizer from Revlon Professional is essential when it comes to coloring your hair. It provides your hair with protection, care and guaranteed colour enhancement during the colour service. Your hair will have a radiant colour and become velvety soft at the same time.
Advantages
Color improvement
Protects hair structure
Prevents metal deposits during colour service
Polluplex system
Salon Exclusive
Hair type
This product is suitable for every hair. The Neutralizer improves every colour service, no matter if colouring or bleaching. The innovative Polluplex system prevents deposits of metals and minerals. Up to 90% of impurities can be removed. Through this wonderful technology, the colour can be sealed better and the result is a long-lasting, radiant hair colour.
Problem
Do you not get the desired shine with your colouring? Is your colour often dull and lackluster? Does your hair often feel weak and strained after colouring? All these problems are a thing of the past with Revlon Magnet Pollution Neutralizer. The product is mixed directly with the color and developer and can be used immediately after coloring. By neutralizing and preventing the formation of free radicals, the color intensifies. At the same time the hair fibres are fully protected and your stressed hair is moisturised. Thus you will have 60% less hair damage after colouring. This miracle product is a must for every colouring.
Compilation
The main ingredients of this neutralizer are chelating agents, keratin boosters and arginine. It is thanks to the chelating agent that the poor water quality is neutralized and metallic deposits are reduced. Due to the keratin booster and the acidic pH-value the colour can be perfectly sealed. Thus a natural long lasting colour can occur. The arginine additionally protects the hair from harmful external influences.
Application
The Pollution Neutralizer is added to the developer and the paint.
For a colour service: 6g per 150g of colour
For one whitening: 2g per 90g whitening agent
Attention: The product must not be applied directly to the hair.
Tip
To protect your hair after colouring, we recommend the shampoo from the same product line, the Revlon Magnet Color Lock Repairing Shampoo.
| | |
| --- | --- |
| Brands: | Revlon Professional |
| Product type: | Colour accessories |
| Requirements: | shine, Shining hair colour, Smoothness |
| Hair type: | blonde, bleached hair, coloured, dyed hair, normal hair |
Links related to "Revlon Magnet Pollution Neutralizer - 475ml"
Customer review for click&care: Revlon Magnet Pollution Neutralizer - 475ml