01 Bonder Proplex Hair Strengthener (500 ml)
30%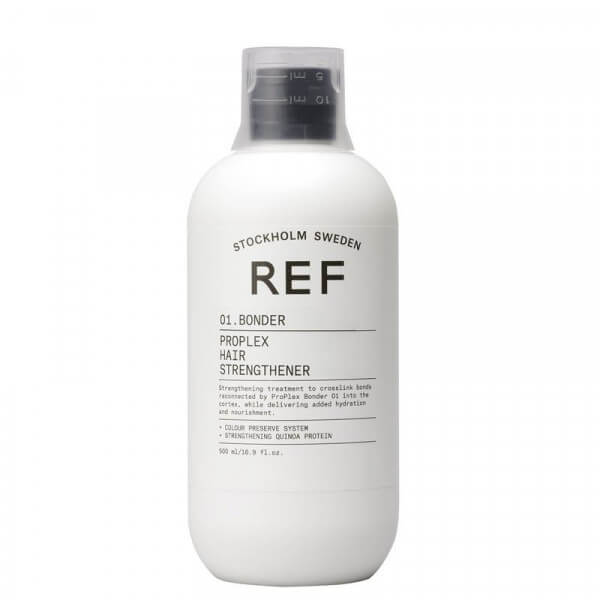 Price incl. VAT plus shipping costs
Basic price: CHF22.43 / 100 ml
Contents: 500 ml
Item number: SW16269
Free delivery!
Available now 1–2 days (A-Post)
Ref. of Sweden has been manufacturing hair care products since 2004 and places great...
more
Ref. of Sweden has been manufacturing hair care products since 2004 and places great emphasis on natural ingredients, easy application and professional results. The new ProPlex series was launched after much scientific research and promises the best results for hair that is treated or coloured. The 01 Bonder is the first step, followed by the 02 Perfector and the 03 Maintainer.
Advantage
Mixed with colour, developer or bleaching powder to protect the hair
Creates new bonds in the hair and protects the natural structure
Contains quinoa, jojoba oil, vitamin E, vitamin B5, styling products
100% vegan
Without animal testing
Protects the hair from UVA/UVB rays
Provides elasticity, suppleness and shine
Hair type
All hair types can benefit from the 01 Bonder from Ref.
Problem
Are you planning to bleach or colour your hair? Do you think that natural ingredients are important? Is your hair damaged and strained after many colorations? Do you want to treat your hair but you do not want to have strawy, brittle hair afterwards? Do you want shiny, strong and healthy hair? The 01 Bonder can help you to protect your hair and keep and improve your hair structure. The Bonder works while dyeing and creates new bonds in the hair.
Composition
This bonder contains many natural and vegetable substances, they have unique properties and can protect, nourish and repair the hair. Furthermore, the product is 100% vegan and animal-tested. We supply our body with many healthy vitamins and of course the hair needs these essential nutrients. Vitamin E was used for its antioxidant properties. Through coloration and treatments, hair can suffer from oxidation. But these are neutralized by vitamin E to keep the hair young and healthy. On the other hand, vitamin B5 takes care of the protection, because it forms a barrier around the hair to seal moisture. Quinoa is one of the plant ingredients. Its protein-rich seeds produce rich oils that can repair the hair with amino acids. The famous jojoba oil can also be found in this bonder, it penetrates the cortex and strengthens it. Sunflower oil is also included, which gives you protection against UVB/UVA rays. Aloe Vera, which is very popular for its caring effects, rounds off the care. All these ingredients make your hair shinier, stronger and smoother.
Application
Prepare ink, developer or bleach as directed by the manufacturer. Add ProPlex 01 Bonder and mix everything.
Mixing ratio:
- For colorations: 1ml 01 Bonder per 10g/ml coloring cream-
For High Lift colorations: 7,5 ml 01 Bonder per 50 g/ml coloring cream-
For lightening: 2 ml 01 Bonder per 10 g bleaching powder
Apply hair colour as usual and rinse out afterwards. If necessary, wash with shampoo and then apply 02 ProPlex Perfector.
Tip
Ref. has carefully developed all products for the care of your hair. Of course, they give the best results when all 3 are combined. The complementary products, 02 Perfector and 03 Maintainer, can be found at click&care!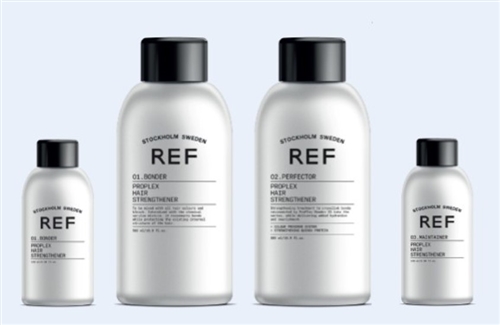 | | |
| --- | --- |
| Brands: | REF |
| Product line: | ProPlex Hair Strengthener |
| Product type: | Colour accessories |
| Requirements: | colour protection, Combing, moisture, Regeneration, shine, Smoothness, UV protection |
| Hair type: | blonde, bleached hair, Chemically treated hair, coloured, dyed hair, normal hair |
Links related to "01 Bonder Proplex Hair Strengthener (500 ml)"
Customer review for click&care: 01 Bonder Proplex Hair Strengthener (500 ml)