Illuminate Colour Conditioner (245ml)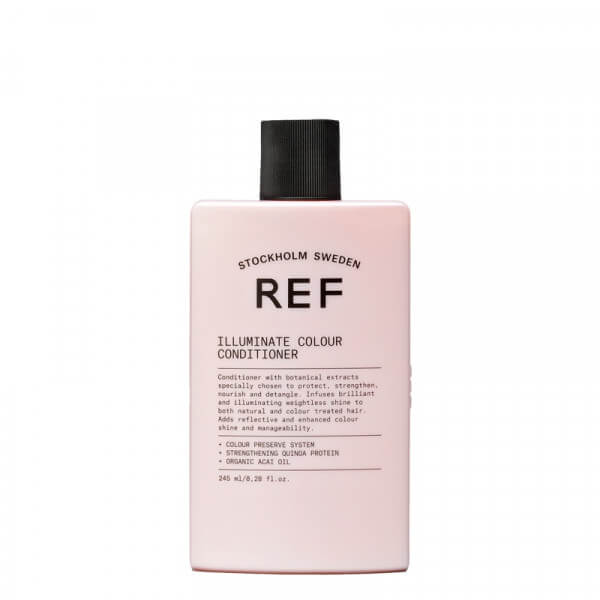 Price incl. VAT plus shipping costs
Basic price: CHF8.94 / 100 ml
Contents: 245 ml
Item number: SW17927
Available now 1–2 days (A-Post)
The Illuminate Colour Conditioner from the Swedish brand REF is specially developed for...
more
The Illuminate Colour Conditioner from the Swedish brand REF is specially developed for normal and coloured hair. Thanks to its plant extracts, it can give more colour brilliance to coloured hair. It also gives natural hair a luxurious shine thanks to ingredients such as acai and linseed oil. In addition, this purely vegan conditioner provides more volume to the hair. You also benefit from incredible smoothness and improved combability of your hair. This Illuminate Colour Conditioner also contains a colour-protecting complex, thanks to which your colour stays in your hair for a long time.
Advantages
Conditioner with plant extracts
For coloured and normal hair
Improves the colour shine of your hair
100% vegan
Without sulphates and parabens
With acai and linseed oil
Colour retaining system
Gives additional volume
For improved combability
Free from animal testing
Hair type
This conditioner from REF was created for two different hair types. On the one hand, it is perfectly suited for all colored and dyed hair, which wants to make their hair color shine. The colour retaining system is also responsible for the effect. On the other hand, this conditioner also ensures improved colour brilliance and a healthy hair feel for natural hair.
Problem
Do you want to show off your hair colour to its best advantage? Do you want your dyed hair to look as long as possible as fresh from the hairdresser? Do you want to protect the colour in your hair? Should the hair colour convince with a beautiful colour brilliance? Do you want to let your hair colour of your natural hair shine even more intensely, only thanks to a conditioner? Would you like more volume for your hair? Do you want your hair to be easier to comb? Do you pay attention to the use of purely natural ingredients in your conditioner? Do you also avoid sulphates, parabens and animal testing? Do you want to give your hair valuable ingredients from which it can benefit? Then the Illuminate Colour Conditioner seems to be perfect for you.
Composition
This conditioner contains pure vegan ingredients instead of sulphates and parabens. For example, there is silent seed oil in this product, which in combination with the natural acai oil makes your hair shine really luxuriously. By the way: REF is also completely free from animal testing.
Acai: The oil is extracted from the acai plant, more precisely the acai berry. The oil is known for its repairing and nourishing effect, which it transfers to the hair. It is very rich in shine-enhancing Omega 3 and Omega 6 fatty acids, minerals and vitamins. Thanks to this cocktail of ingredients the hair becomes super shiny. The Acai oil leaves the hair with an improved luminosity of your hair colour.
Flaxseed: Linseed oil contains a high level of omega 3 fatty acids. These are very healthy for the hair and have a caring effect. In combination with other oils, linseed oil gives the hair its distinctive shine. It also has a dust repellent effect and helps to moisturize the scalp and keep it healthy.
Quinoa: These seeds have a strengthening and rebuilding effect on the hair. Thanks to their high protein content, they support every single hair and make it look healthier again.
Application
Distribute the Illuminate Colour Coditioner in damp hair after washing. Leave it there for 1-3 minutes before rinsing thoroughly.
Tip
For the ultimate colour shine of your hair we have a tip: Use the Illuminate Colour Shampoo to cleanse your hair. This way you benefit from the double colour shine effect, even when washing your hair.
| | |
| --- | --- |
| Brands: | REF |
| Product line: | Illumina Color |
| Product type: | conditioner |
| Requirements: | colour protection, Combing, shine, Smoothness, volume |
| Hair type: | coloured, dyed hair, normal hair |
| Ingredients: | not tested on animals, paraben free, sulphate free, vegan |
Links related to "Illuminate Colour Conditioner (245ml)"
Customer review for click&care: Illuminate Colour Conditioner (245ml)