John Paul Pet Super Bright Shampoo - 473.2ml
25%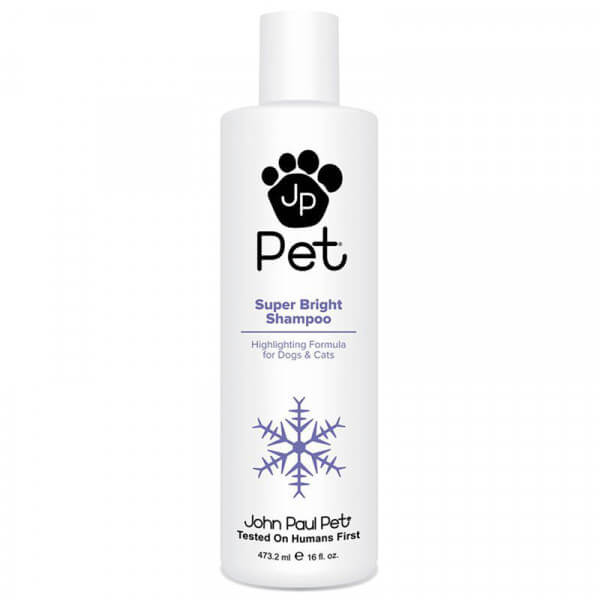 Price incl. VAT plus shipping costs
Basic price: CHF3.97 / 100 ml
Contents: 473.2 ml
Item number: SW21909
Stock: Currently unavailable
Delivery time: from 5 business days
Super Bright Shampoo This shampoo from John Paul Pet is an ideal care for your pet, whether...
more
Super Bright Shampoo
This shampoo from John Paul Pet is an ideal care for your pet, whether dog or cat, it is suitable for any colour of coat. Your pet's coat will look brighter and shinier, ideal for dull and shaggy hair that needs a rich shine and gentle cleansing. This product is enriched with aloe vera, almond oil, oats and chamomile. This perfect combination will not only give your pet's coat a new radiance, it will also moisturize the skin, giving dry, irritable and tense skin a soft and clean surface. With this shampoo you will let your dog or cat shine. The combing of the coat becomes easier and you reduce the pulling of knots and the suffering of your pets.
Advantages
Gloss
Suppleness
Dogs and cats
Thorough cleaning
Reassuring
Application
Massage the shampoo into the damp coat and avoid contact with the eyes and ears of the animal. You can gently cleanse the face with a damp sponge or a damp washcloth. Lather the foam over the entire body up to the tail and then rinse thoroughly with clean water. If necessary, you can repeat this process to ensure your pet is thoroughly cleaned. Use a towel to dry the coat and brush or comb it.
Tip
We have many more products from John Paul Petthat you can use for this. Look at everything and let the Wild Ginger Shine Spray inspire.
| | |
| --- | --- |
| Brands: | Paul Mitchell |
| Product line: | John Paul Pet |
| Target audience: | Pet |
Links related to "John Paul Pet Super Bright Shampoo - 473.2ml"
Customer review for click&care: John Paul Pet Super Bright Shampoo - 473.2ml