19%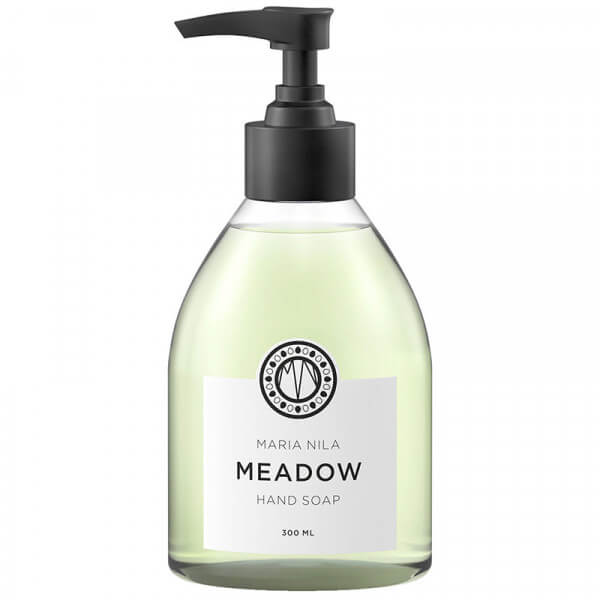 Price incl. VAT plus shipping costs
Basic price: CHF5.37 / 100 ml
Contents: 300 ml
Item number: SW22485
Available now 1–2 days (A-Post)
Meadow Hand Soap - 300ml Maria Nila's Meadow Hand Soap refreshes skin and soul. This liquid...
more
Meadow Hand Soap - 300ml
Maria Nila's Meadow Hand Soap refreshes skin and soul. This liquid hand soap not only looks cute, but also smells heavenly of fresh green meadows. It gently cleanses your hands and leaves your skin feeling smooth and fresh. It frees your hands from any dirt and provides your skin with abundant moisture. This hand soap is a perfect accessory which gives your bathroom and kitchen a touch of colour and freshness. Like all Maria Nila products, this soap is 100% vegan, free from sulphates, parabens and silicones. Maria Nila combines naturalness and care on an animal-free basis.
Give your skin a touch of Scandinavian flair!
Advantages
mild cleaning
caring ingredients
vegan
cruelty-free
of course
fresh scent
sulfate-free
paraben-free
silicone-free
allergen-free fragrances
Skin type
Due to its gentle ingredients this hand soap is suitable for all skin types.
Application
This soap is intended for hand cleaning. Take a small amount of the soap and spread it on your wet hands. Enjoy the pleasant and fresh smelling foam and let it pamper you. When you have finished washing your hands, rinse them with plenty of water.
Problem
Are you looking for a natural and caring cleansing for your hands? Is it important to you to use animal-free products? Have you been looking for a rich and gentle hand soap for a long time? Have you not yet found a soap that cleanses your skin thoroughly and leaves it with a fresh scent? With Meadow Soap by Maria Nila you will get a sensual experience for your hands! Your skin is gently cleansed, which prevents irritation and itching.
Tip
Are you already convinced of this great hand soap and want to know which other products you can combine with it? Then discover now the Meadow Hand Lotion by Maria Nila! It makes your hand care complete. Your skin gets a radiant and smooth finish. The hand lotion is easy to apply and works quickly so that you don't have to worry about greasy residue!
Discover here more Skin Care products from Maria Nila cheap at clickandcare.ch!
| | |
| --- | --- |
| Brands: | Maria Nila |
| Product type: | Soap |
| Requirements: | Calming, Cleansing, moisture, Refreshment, Relaxation, Smoothness |
| Skin type: | dry skin, mature skin, normal skin, sensitive skin |
| Ingredients: | Cruelty-Free, not tested on animals, paraben free, sulphate free, vegan |
| Fragrance: | fresh |
Links related to "Meadow Hand Soap - 300ml"
Customer review for click&care: Meadow Hand Soap - 300ml