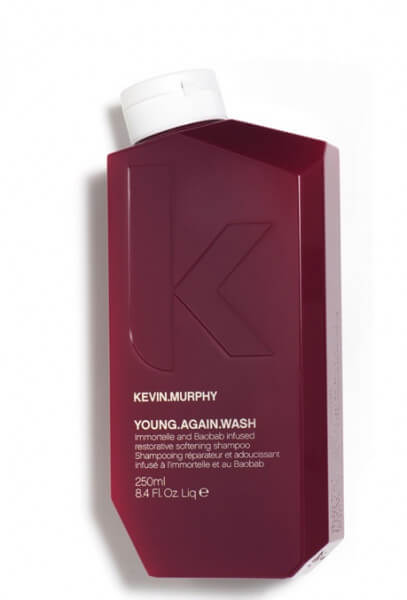 Price incl. VAT plus shipping costs
Basic price: CHF15.16 / 100 ml
Contents: 250 ml
Item number: SW15944
Available now 1–2 days (A-Post)
The Young Again Wash by Kevin Murphy has a special composition of 20 different amino acids....
more
The Young Again Wash by Kevin Murphy has a special composition of 20 different amino acids. Valuable anti-ageing extracts from various plants ensure beautiful, youthful hair. Lotus flowers and orchids make the hair shine and provide an irresistible shine. The shampoo is ideal for dry and mature hair. Because often our hair tips are several years old. Depending on the length of your hair, they can be up to 3 years old. This means that these hairs need special care. The Young Again Wash is the ideal shampoo for long, mature or dry hair. Like all hair products from Kevin Murphy the Young Again Wash is also without parabens and sulphates. It has not been tested on animals and many of the ingredients are of natural origin.
Advantages
acts as an antioxidant
Is anti-inflammatory
prevents the aging process of the hair
for soft and supple hair
without parabens
sulphate-free
none of the ingredients have been tested on animals
ideal for mature, dry or older hair
gives a youthful glow
Application
Young Again Wash is a shampoo that can be used daily. Apply a small amount of the shampoo to wet hair and lather it up well. Massage your scalp with your fingers and cleanse the hairline. It is enough to apply the shampoo only on the scalp. You do not need to shampoo the length of your hair. It will wear them out. After cleaning your scalp, rinse the foam with plenty of water. Make sure that no residues remain in the hair. In order to give your hair the best possible care, apply the Young Again Masque. It provides intensive moisture and gives your hair a youthful shine. With anti-aging effect.
Hair type
The Young Again Wash by Kevin Murphy is ideal for mature and dry hair. It can also be used for long hair, because here the hair lengths and tips are up to 3 years old.
Problem
Are you looking for a shampoo with anti-aging effect for your hair? You want a youthful look for your hair? You want your hair to be full of elasticity and resilience again? You want a shampoo that is free of parabens and sulfates? You are looking for a hair product that has not been tested on animals? Do you value the best, most natural ingredients? Then the Young Again Wash is the perfect hair care product for you.
Composition
The Young Again Wash consists of 6 different Australian fruits. These fruits show their resistance even under the most severe weather conditions. This makes the extracts from the fruits ideal for your hair. The hair becomes more resistant and can retain its beauty even under severe climatic changes such as intense heat or cold. In addition, these fruits have a hydrophilic effect. This means they are able to draw moisture from the air. This moisture is stored in the hair. This ensures healthy and soft hair.
Another ingredient is baobab seed oil. This oil is extracted from the baobab tree. This tree can reach an age of 6000 years. Its ingredients are therefore so effective for an anti-aging cure for the hair. The oil is rich in vitamins. These nourish the hair, revitalize the scalp and make the hair look youthful. Vitamins include vitamins A, D and E. Vitamin E is particularly effective against aging.
Another remarkable natural ingredient is Immortelle. Strawflower extracts are rich in antioxidants and protect the hair from damage.
Tip
To give your hair even more care, you should use the Young Again Rinse. Use the conditioner after every hair wash. It closes the cuticle layer of the hair that has been roughened by the water and makes it easier to comb.
| | |
| --- | --- |
| Brands: | Kevin Murphy |
| Product line: | Young.Again |
| Product type: | shampoo |
| Requirements: | Anti-Aging, Regeneration |
| Hair type: | mature hair |
| Ingredients: | not tested on animals, paraben free, sulphate free |
Links related to "Young Again Wash (250ml)"
Customer review for click&care: Young Again Wash (250ml)