41%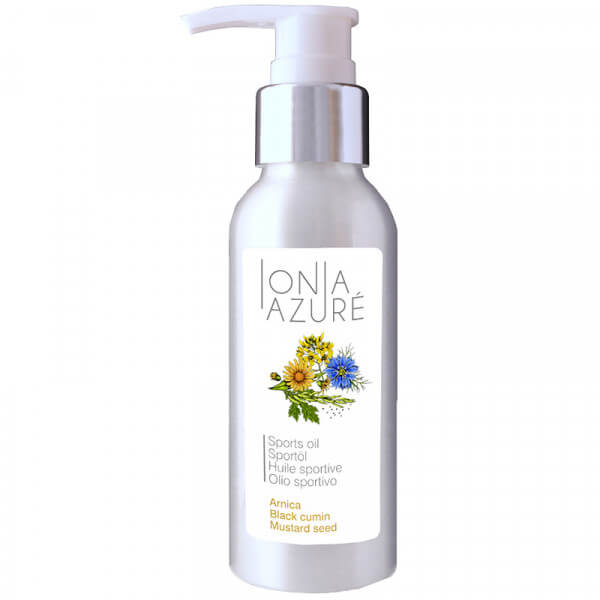 Price incl. VAT plus shipping costs
Contents: 100 ml
Item number: SW22365
Available now 1–2 days (A-Post)
Ionia Azuré Sport Oil The new Skincare Oils line from Ionia Azuré has finally reached us!...
more
Ionia Azuré Sport Oil
The new Skincare Oils line from Ionia Azuré has finally reached us! Exclusively available from us. This new line has something for every need, choose your favourite from 12 products with 100% natural origin. What are you waiting for? Convince yourself of the new Skincare Oils from Ionia Azuré!
With the new sport oil from Ionia Azuré you have found a worthy training partner for your skin! The oil helps you to achieve a perfect performance and provides your skin with the necessary recovery even after training! In addition, the sport oil can also be used for normal massages, as it warms the tissue and muscles and thus promotes muscle relaxation.
Advantages
Natural components
Organic care
Promotes blood circulation
Muscle Relaxing
Increase in performance
no silicones
no parabens
no conservatives
no emulsifiers
no alcohol
Problem
Do you sometimes have problems with the blood circulation in your muscles or joints before training? Do you often suffer from muscle or joint injuries during sports? Does your tissue often feel tense and hard? If so, you will find your new training and recovery partner in the new Ionia Azuré sports oil! Every athlete knows the problem with muscle or joint pain - but you no longer have to! Treat your tissue to some recovery after hard training sessions so that your future training sessions will also run smoothly.
How does the Ionia Azuré Sport Oil work?
The oil has a muscle warming and relaxing effect, which promotes positive regeneration of the muscles. In addition, the sports oil has a moisturizing function, the skin is relaxed and its elasticity is improved.
Composition
Sport oil consists of 99.9% of three valuable oils, namely arnica oil (33.3%), mustard oil (33.3%) and black cumin oil (33.3%).
Arnica oil is extracted from the well-known arnica plant. The arnica oil has a calming and warming effect on the muscles. This enables a more successful and faster regeneration after a hard training. In addition, arnica oil promotes blood circulation, has an anti-inflammatory and pain-relieving effect.
The mustard oil has a blood circulation-promoting and relaxing effect. It fights bacteria and thus prevents inflammation. The sweat glands are stimulated by using mustard oil and the skin pores are opened so that toxins can be released from the body.
Black cumin oil is rich in vitamins A, B and C as well as various minerals and antioxidants. This provides the skin with everything it needs for deep care and recovery. The skin is nourished with sufficient moisture and the skin elasticity is improved. In addition, black cumin oil is known to have an anti-inflammatory effect and thus helps to prevent injuries.
Beauty benefits
Supports the sporty performance
Cares for the tissue and muscles
Improves your skin elasticity
Inflammatory and antibacterial effect
anti-aging effect
Application
To promote blood circulation and increase performance, we recommend that you rub your body with two to four drops of the sports oil half an hour before training. If you feel more like a relaxing massage, take three to six drops and massage them in. Tip: For an extra relaxing effect, warm up your hands before the massage and then massage the oil in this way.
When treating bruises and swellings, use one to two drops.
Skin type
Due to its caring effect, this oil is suitable for all skin types, but we particularly recommend it for people who are active in sports or exposed to high physical stress.
Origin
All products are manufactured and packed in Switzerland.
Tip
Discover here even more of the biological Ionia Azuré care oil products!
| | |
| --- | --- |
| Brands: | Ionia Azuré |
| Product type: | Body oil |
| Requirements: | Calming, Deep repair, moisture, Refreshment, Regeneration, Relaxation, Skin firming |
| Skin type: | blemished skin, combination skin, dry skin, greasy skin, mature skin, normal skin, sensitive skin |
| Ingredients: | alcohol-free, biologisch, organic, paraben free, silicone free, sulphate free |
| Target audience: | ladies, men |
Links related to "Ionia Azuré Sportöl"
Customer review for click&care: Ionia Azuré Sportöl