Color Security Shampoo - 250ml
40%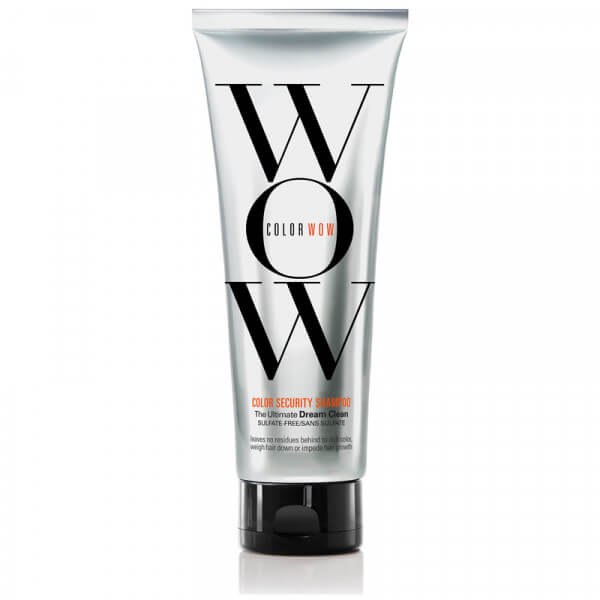 Price incl. VAT plus shipping costs
Basic price: CHF9.54 / 100 ml
Contents: 250 ml
Item number: SW21389
Available now 1–2 days (A-Post)
Color Security Shampoo - the shampoo that leaves no residue Color Wow Color Security Shampoo...
more
Color Security Shampoo - the shampoo that leaves no residue
Color Wow Color Security Shampoo is the perfect shampoo for colored hair. Usually shampoos contain ingredients that make the hair color look dull and dull. That is why Color WOW has developed this shampoo. It does not leave matting residues in the hair. That is why Color Security Shampoo is free of sulfates and ensures a perfect hair wash. It leaves nothing but clean, fresh and shiny hair. This shampoo keeps your colour vivid and shiny, ensures healthy hair and also makes your scalp fresh and healthy. Without weighing down your hair, clogging follicles or thinning your hair.
Advantages
Shampoo for healthy and shiny hair
For fresh hair and scalp
Without matting additives
Without sulfates
Without silicones
Suitable for all hair types
Also suitable for extensions, because it does not dissolve the bonds
Can be combined with keratin treatments
Do not weigh down the hair
Hair type
This shampoo is suitable for all hair types. It is for those who have dyed their hair and do not want the colour to become dull. It is for everyone who is worried about thinning or falling out hair. It is for everyone with extensions.
Problem
Do you want to protect your freshly colored hair and want the color to stay vibrant and bright? Color Wow Shampoo keeps your hair color as natural, fresh and shiny as possible. Thanks to its pure formulation, no matting residue is left in the hair. Are you worried about hair falling out and thinning? Thanks to the shampoo's formulation, the shampoo leaves no residue - not even on the scalp. Hair can grow without any problems because the hair follicles are not blocked. Are you looking for a shampoo that is also suitable for extensions or hair extensions? Perfect, because the Color Security Shampoo does not contain any silicones or conditioners which could dissolve the adhesive.
Composition
What is so special about Color Security Shampoo? It is completely free of sulphates, as well as silicones. In addition, it does not contain any care substances and no shining materials. These ingredients are normally found in conventional shampoos. And these are exactly the substances that clog the hair follicles, dull the hair and break it down in the long run. Even worse, some of these substances can even prevent the growth of new hair. That's why Color Wow deliberately dispenses with all this.
Application
Massage a coin-sized amount into wet hair and allow the shampoo to lather. Then rinse it out and apply Color Wow Security Conditioner.
| | |
| --- | --- |
| Brands: | Color WOW |
| Product type: | shampoo |
| Requirements: | Cleansing, hair lengthening care |
| Hair type: | coloured, dyed hair, normal hair |
| Ingredients: | paraben free, silicone free, sulphate free |
Links related to "Color Security Shampoo - 250ml"
Customer review for click&care: Color Security Shampoo - 250ml