Juan´s Kiss Nagellack (10ml) alessandro
12%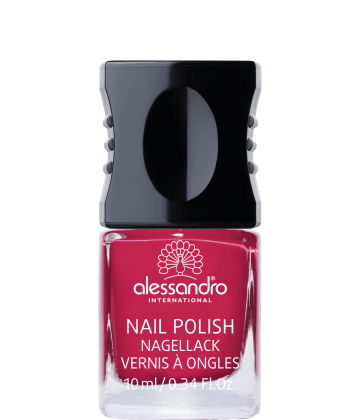 Price incl. VAT plus shipping costs
Basic price: CHF111.50 / 100 ml
Contents: 10 ml
Item number: SW15383
Available now 1–2 days (A-Post)
Juan's Kiss Nail Polish (10ml) alessandro Juan's Kiss Nail Polish is a rich and intense...
more
Juan's Kiss Nail Polish (10ml) alessandro
Juan's Kiss Nail Polish is a rich and intense nail polish for confident women. The nail polish has long durability and high gloss. It fits every season and underlines your trend consciousness. It is easy to apply thanks to the creamy texture of the varnish. The new brush allows an especially exact and precise application. The high pigmentation ensures that you only have to apply the nail polish once. The special thing about alessandro nail polishes is that they do not stain your fingernails. Therefore no base-coat is necessary for application.
Advantages
Long durability
Gloss
easy application
rich colour
high-quality texture
for each season
vegan
no Top Coat or Bae Coat necessary
Application
The application of alessandro nail polish is quite easy, because the creamy texture ensures that the polish runs evenly and leaves no streaks. Before you start polishing, make sure that your cuticles are pushed back. Your nails should be free of nail polish residue and grease. Apply Juan's Kiss Varnish in a thin, even layer. Do not place the brush directly on the cuticle, but just before it. Draw the first brushstroke from the middle of the nail root to over the tip of the nail, without taking the brush off. Then apply the brush to the left and right of the middle stroke, and draw one brush stroke. This way you will get a clean result. To intensify the color effect, apply another layer. Done.
Problem
You want a paint with a rich colour? You are a style-conscious and self-confident woman? You like high-quality products? You are looking for a vegan nail polish? You want a nail polish with a lot of shine? You want a nail polish that can be applied without streaks? You are looking for a nail polish with long durability? Then this nail polish is the ideal companion for you.
Tip
You in a hurry? Then use a nail polish quick-dryer. It also dries several layers of nail polish in a short time.
| | |
| --- | --- |
| Brands: | Alessandro |
| Product type: | Nail polish |
| Ingredients: | vegan |
| Desired colour: | pink |
Links related to "Juan´s Kiss Nagellack (10ml) alessandro"
Customer review for click&care: Juan´s Kiss Nagellack (10ml) alessandro