All Night Long Nagellack (10ml) alessandro
12%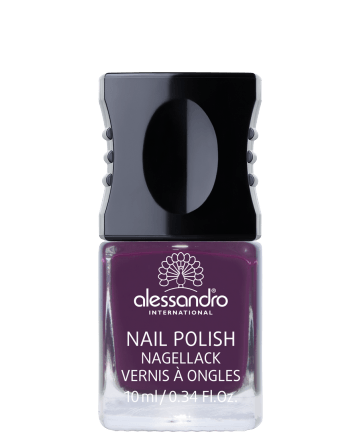 Price incl. VAT plus shipping costs
Basic price: CHF111.50 / 100 ml
Contents: 10 ml
Item number: SW15143
Available now 1–2 days (A-Post)
All Night Long Nail Polish (10ml) alessandro Creamy nail polish with very high covering...
more
All Night Long Nail Polish (10ml) alessandro
Creamy nail polish with very high covering power in purple. This colour is trendy in every season. However, it is particularly suitable for autumnal fashion trends. But also in summer this dark purple can be a real eye-catcher.
In addition to the beautiful color, alessandro nail polish offers a very high quality and an extraordinary shine. The nail polish can be applied without streaks and can also be applied without base coat due to its high covering power.
Advantages of
vegan nail polish - this nail polish contains neither animal products nor has been tested on animals especially
high covering power - the nail polish only needs to be painted once strong shine
fast drying
creamy texture
for streak-free application new brushes
make it easier to apply the All Night Long
nail polish precisely All Night Long nail polish can be applied without base coat
Application
For the perfect result you should follow some steps. Do not apply the nail polish without having pushed back the cuticles first. This allows you to apply over the entire nail.
Step 1 - Push the cuticle back.
Step 2 - Then take the brush out of the nail polish and scrape off any excess paint from the nail polish bottle. For a good result it is very important that you do not have too much nail polish on the brush and not too little.
Now place the brush on your fingernail. Try to place it in the middle. Push it carefully in the direction of your cuticle. This way you apply paint evenly all over the nail. Now pull the brush evenly and without stopping forward to the tip of the nail.
At the resulting line you can draw the appropriate lines on the left and right side to paint the nail completely.
Never apply the brush just before the cuticle. There is a risk that you will apply too much colour and it will stick to your cuticles.
Problem
You are looking for a beautiful purple nail polish? You would like a nail polish with an extra long hold? You want a very high covering power, so that you only have to varnish once?
You want a perfect result without having to apply several layers of Top and Base Coat? Then a nail polish from alessandro is exactly the ideal product for you!
Composition
Latest and innovative technologies have enabled alessandro to develop a 7-free formula. This means that harmful ingredients such as dibutyl phthalate (DBP), toluene, formaldehyde, formaldehyde resin, camphor, parabens and xylene are not used.
The nail polish is also vegan. No animal ingredients are used and no animal testing is performed.
| | |
| --- | --- |
| Brands: | Alessandro |
| Product type: | Nail polish |
| Ingredients: | vegan |
| Desired colour: | violet |
| Target audience: | ladies |
Links related to "All Night Long Nagellack (10ml) alessandro"
Customer review for click&care: All Night Long Nagellack (10ml) alessandro