Shampoo Brazilnut Oil (1000ml)
30%
Price incl. VAT plus shipping costs
Basic price: CHF4.72 / 100 ml
Contents: 1000 ml
Item number: SW17602
Available now 1–2 days (A-Post)
Bas BC Shampoo Brazilnut Oil is a special conditioning shampoo for all hair types. It can be...
more
Bas BC Shampoo Brazilnut Oil is a special conditioning shampoo for all hair types. It can be used for normal, dry and even coloured hair. The shampoo is enriched with the rich Brazilnut Oil. The tropical oil is especially nourishing for the hair and gives it enormous shine. The Brazilian nut oil wraps itself protectively around the hair and makes it shine. But not only that, it also prevents the hair from drying out and makes it supple. The hair feels incredibly smooth and soft after the first wash. Another advantage is the wonderful scent that the shampoo gives off. The great scent combination takes you on a short trip to the tropics! The gentle lather of the shampoo cleans your hair thoroughly and makes it pleasant to clean your hair. The hair is supplied with valuable Omega 3 and 9 fatty acids, which maintain the youthfulness of the hair and ensure a vital appearance. In addition, Brazilnut Shampoo protects your hair from harmful UV rays for beautiful and healthy hair.
Advantages
suitable for all hair types
protects against drying out
with Omega 3 and 9 fatty acids
preserves the youthfulness of the hair
with valuable Brazilian nut oil
incredible tropical scent
ideal for a relaxed hair wash
protects against UV radiation
also suitable for dyed hair
Application
Use the tropical conditioning shampoo in damp hair. Add a small amount of the shampoo to the hair. Lather BC Brazilnut Shampoo in a circular motion to cleanse your scalp. The light massage movements ensure a relaxed hair wash. Depending on the condition of the hair, the shampoo can be applied for 2 minutes. To care for your hair professionally, it is advisable to apply a hair mask after cleansing.
Hair type
The professional BC Brazilnut Shampoo is a real all-round talent. It can be used for all hair types and meets the specific needs of the hair. This applies to dry, colored and normal hair.
Composition
One of the most important ingredients of BC Brazilnut Oil Shampoo is the rich oil of the Brazilian nut. The oil has a special caring effect on all hair types and gives fabulous shine. Additionally it protects against hair breakage and hair damage. The omega 3 and 9 fatty acids contained in the shampoo ensure youthful hair. The vitality of the hair is preserved and it looks great. Certain active ingredients in the shampoo provide UV protection for the hair. Thus the hair remains protected from sunlight and is not additionally stressed.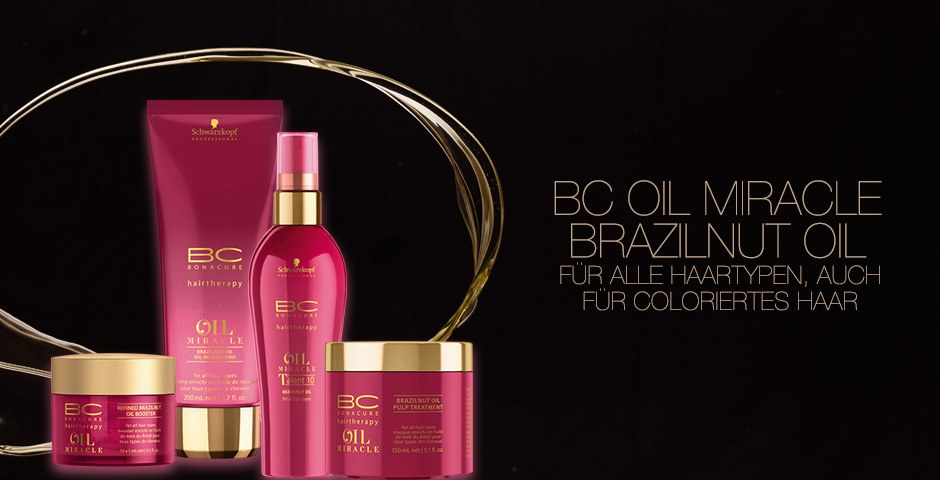 | | |
| --- | --- |
| Brands: | Schwarzkopf |
| Product line: | BC Oil Miracle |
| Product type: | shampoo |
| Requirements: | Cleansing |
| Hair type: | Chemically treated hair, coloured, dyed hair, fine hair, normal hair |
| Fragrance: | luxurious |
Links related to "Shampoo Brazilnut Oil (1000ml)"
Customer review for click&care: Shampoo Brazilnut Oil (1000ml)