BC pH 4.5 Color Freeze Rich Micellar Shampoo - 1000ml

P

for Points
30%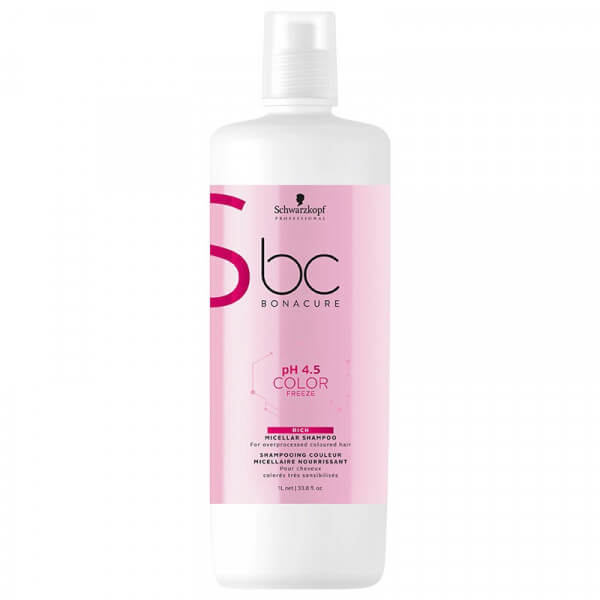 Price incl. VAT plus shipping costs
Basic price: CHF4.18 / 100 ml
Contents: 1000 ml
Item number: SW19679
Available now 1–2 days (A-Post)
Are you looking for care and gentle cleansing for your dyed hair? Then BC Color Freeze Rich...
more
Are you looking for care and gentle cleansing for your dyed hair? Then BC Color Freeze Rich Micellar Shampoo is the solution. It is the ideal hair care product for your coloured hair. Based on a new formula enriched with micelles, it provides more care and even more moisture. The micelles also have an important task. Because they ensure a gentle and thorough cleaning. Therefore, the intensive care shampoo is perfectly suitable for
coloured hair
tinted hair
chemically treated hair
bleached hair
Even over-stressed hair can be cared for with BC pH 4.5 Color Freeze Rich Micellar Shampoo. It is even suitable for daily use. It provides intensive care and reduces hair damage and hair breakage. Another advantage are the micelles. The new micelles technology ensures an especially gentle cleaning of the hair. This means that coloured hair is not subjected to additional stress during hair washing. In addition to the micelles, the low pH value of 4.5 and 5.0 also contributes to the gentle cleaning. The caring ingredients of the shampoo ensure the correct moisture balance of the hair and scalp. This gives the hair more shine and suppleness. The scalp is protected from irritation. The shampoo has care level 2.
Advantages
with micelles
care level 2
pH value between 4.5 and 5.0
Intensive care shampoo for coloured hair
ideal for coloured hair
cares for overstrained hair
gives shine
reduces hair damage
reduces hair breakage
cleanses gently
protects the hair colour from washing out
new formula
provides more suppleness
Application
The shampoo is used, like any shampoo, in wet hair. Then apply a generous amount of the shampoo to the scalp. With the appropriate pump, the shampoo can be optimally dosed. Once the shampoo is on the scalp, massage it in with circular movements. In this way you can massage the scalp and at the same time lather the shampoo. Immediately a fine foam is formed with which you clean the hair and scalp. Distribute the foam in the hair lengths and hair tips and thereby ensure a thorough cleaning. Rinse out the shampoo after it has been dispersed. Use plenty of water and make sure that everything is rinsed out of the hair. Afterwards, a care product such as a conditioner should be used. The BC Color Freeze range offers several conditioners suitable for color-treated hair. Depending on your personal preference, you can use a conditioner in a spray as leave-in care or a rinse-off conditioner. The conditioner should be applied after every hair wash.
Hair type
Color Freeze Rich Micellar Shampoo is a conditioning shampoo for colored, damaged and dull hair. Especially for hair that is often dyed, the shampoo should be used. Because in addition to hair care it also provides colour protection.
Composition
The new powerful formula ensures optimal hair care during cleansing. Because the Color Freeze Rich Micellar Shampoo is based on an improved formula. This is enriched with micelles and therefore ensures gentle cleansing. The hair product also contains various care ingredients that provide more shine and moisture. This makes the hair smooth and soft. The special ingredients also provide colour protection.
Problem
Your hair is very dull? You have dry and brittle hair? Your hair needs moisture? You are looking for a shampoo with color protection? Your hair is dry and needs to be cleaned gently? You want more shine in your hair? You are looking for a shampoo with micelles? You want to care for your colored hair? You want to clean your hair and care for it at the same time? Then the new Color Freeze Rich Micellar Shampoo is just right for you. It cleanses, nourishes and moisturizes.

Tip
Dyed hair needs a lot of care. Therefore a conditioner and a hair mask should be used regularly. Because only then can the stressed hair be sufficiently cared for. Use a hair mask at least once a week.
| | |
| --- | --- |
| Brands: | Schwarzkopf |
| Product line: | BC Color Freeze |
| Product type: | shampoo |
| Requirements: | Cleansing, colour protection |
| Hair type: | coloured, dyed hair |
Links related to "BC pH 4.5 Color Freeze Rich Micellar Shampoo - 1000ml"
Customer review for click&care: BC pH 4.5 Color Freeze Rich Micellar Shampoo - 1000ml