Revlon Magnet Anti-Pollution Restoring Mask - 200ml
7%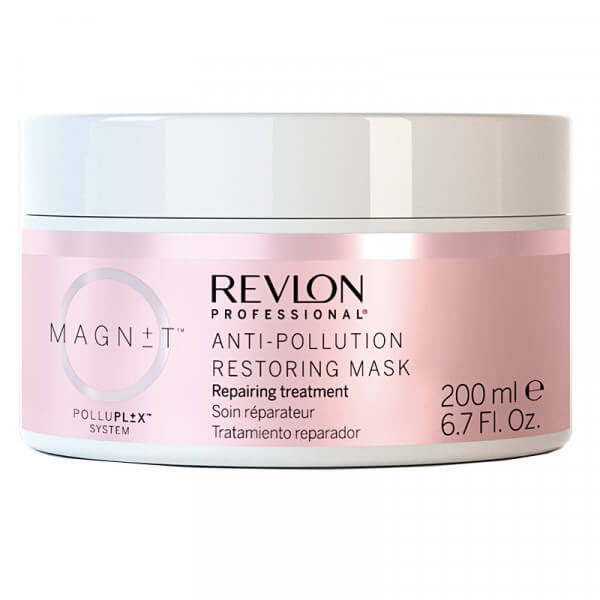 This item is currently unavailable!
Price incl. VAT plus shipping costs
Basic price: CHF12.60 / 100 ml
Contents: 200 ml
Item number: SW21380
Stock: Currently unavailable
Delivery time: from 5 business days
Revlon Magnet Anti-Pollution Restoring Mask - 200ml Revlon Professional 's Anti-Pollution...
more
Revlon Magnet Anti-Pollution Restoring Mask - 200ml
Revlon Professional's Anti-Pollution Restoring Mask is an all-in-one treatment that will solve all your hair problems. It nourishes your hair from the inside and outside. Your hair will be soft and smooth from root to tip, while your hair is given an extra protective film to shield it from countless pollutants.
Advantages
Strengthens the hair fibres
Protection against harmful environmental factors
Anti-Frizz
Smooth hair
Colour protection
Improved combability
Salon Exclusive
Hair type
This hair mask is especially beneficial for dyed or bleached hair, as it protects the colour and gives you long-lasting, radiant hair. The heart of the cure is the Polluplex system. This is a combination of various protective active ingredients that combat impurities and damage.
Problem
Is your hair missing that certain something? Do they lose their shine and often look weak and stressed in the evening? Could they not find an optimal care until now? In this case you should definitely try the Anti-Pollution Restoring Mask from Revlon Professional. The high-quality ingredients strengthen your hair fibers. The cuticle layer of the hair is smoothed and therefore the appearance of the hair is improved only after one application. Your damaged hair will look healthier in no time.
Compilation
This salon exclusive treatment is rich in many different active ingredients. The three main ingredients are as follows:
The moringa seed extract inhibits the formation of free radicals.
The keratin amino acid improves the appearance of damaged hair by deep repair.
Panthenol, which is rich in vitamin B5 and gives your hair a lot of moisture.
The perfect cooperation of selected products guarantees you healthy hair like never before!
Application
Work into damp hair and leave on for a few minutes. Then rinse thoroughly.
Tip
Use the mask 1 to 2 times a week. To intensify the effect, we also recommend using the Micellen Shampoo from the same care line. The additional use of the Revlon Magnet Micellar Shampoo prepares your hair perfectly for the protective and restorative treatment.
| | |
| --- | --- |
| Brands: | Revlon Professional |
| Product type: | Treatment |
| Requirements: | anti-frizz, colour protection, Deep repair, moisture, Shining hair colour, Smoothness |
| Hair type: | blonde, bleached hair, coloured, dyed hair, normal hair |
Links related to "Revlon Magnet Anti-Pollution Restoring Mask - 200ml"
Customer review for click&care: Revlon Magnet Anti-Pollution Restoring Mask - 200ml