Sun Pro Instant Two – Phase Hydrating Conditioner – 190ml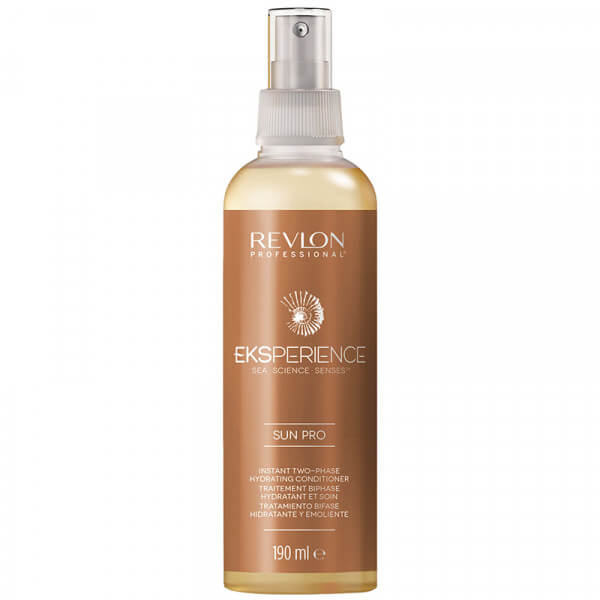 Price incl. VAT plus shipping costs
Basic price: CHF16.26 / 100 ml
Contents: 190 ml
Item number: SW22295
Available now 1–2 days (A-Post)
Sun Pro Instant Two - Phase Hydrating Conditioner This Leave-in Conditioner from Sun Pro...
more
Sun Pro Instant Two - Phase Hydrating Conditioner
This Leave-in Conditioner from Sun Pro gives your hair a new texture and a smooth and shiny texture without weighing it down. This conditioner gives your hair a lot of moisture after sunbathing and gives your dry and porous ends a wonderful and silky hair length again. The leave-in conditioner is easy to use and can be applied daily. It refines your lengths and ends and provides protection from the sun, salt water and chlorine. Ideally you can take this product with you on holiday to thoroughly protect your hair from UV rays. In addition, you will notice the smoothness of your strands when combing your hair. The colour will stay longer in your hair and the ingredients of this product will protect your hair from external influences. It prevents dryness and also fading of streaked or bleached hair. Through the nourishing ingredients of Aquamaris Complex and Corallina Officinalis Algae Extract, your hair will be deeply nourished and nourished with rich substances right into the inner layer of the cuticle.
Advantages
Gloss
Structure
Protection
UV protection
Comprehensive
Combinability
Suppleness
Easy to use
Daily applicable
Regenerating
Hair type
This Sun Pro Instant Two-Phase Hydrating Conditioner is ideal for sun-stressed and dry hair. Additionally, you can take this product on holiday to protect your hair from damage from the sun, salt water and chlorine. It penetrates deep into the hair fibre and coats your dandruff layer. Thus your hair is protected from all external influences. The dry and porous tips are repaired immediately so that no additional damage can occur. You can also use this product on dyed hair. It protects your hair colour so that the colour adheres better and lasts longer. Your lengths and ends will lighten less quickly and the structure remains silky and smooth.
Application
You can spray this wonderful spray conditioner on your towel-dried hair after shampooing. It is important to shake the bottle well before use. Work the product into the lengths and tips and then comb lightly. You can also use the Sun Pro Shampoo. This shampoo cleans your hair thoroughly after contact with sun or salt water and ensures a clean and pure result. The spray conditioner that you apply after the shampooing process covers the cuticle layer and protects your lengths and ends.
Problem
Are you dissatisfied with the conventional products you have been using while in contact with the sun? Is your hair dry and you do not know which products to use? Are you going on holiday soon and are in desperate need of new products to use after you have been in the sun or salt water? Then this Sun Pro line is exactly what you need. It protects your hair from harmful influences that can damage your hair and can additionally stress it. With this Sun Pro line you will have a richer colour, a smooth structure and a wonderful and unique suppleness that no other product will give you.
Tip
With this leave-in spray you can combine several products to achieve a perfect and rich result. This line protects your hair from the inside out, giving it a new and distinct structure. You can use the Sun Pro Shampoo and the Marine Protective Cream. With these two products you will be able to achieve an ideal combination and rebuild your structure from scratch without weighing down your hair. You can apply the shampoo to wet hair and shampoo evenly. Then rinse thoroughly and spray the Leave-in Spray onto towel-dried hair. Finally, you can work the cream into the lengths and ends of the hair for styling.
| | |
| --- | --- |
| Brands: | Revlon Professional |
| Product line: | Eksperience |
| Product type: | conditioner |
| Requirements: | colour protection, moisture, shine, UV protection |
| Hair type: | blonde, bleached hair, coloured, dyed hair, damaged hair, dry hair, split ends |
Links related to "Sun Pro Instant Two – Phase Hydrating Conditioner – 190ml"
Customer review for click&care: Sun Pro Instant Two – Phase Hydrating Conditioner – 190ml