Anti Hair Loss Program Eksperience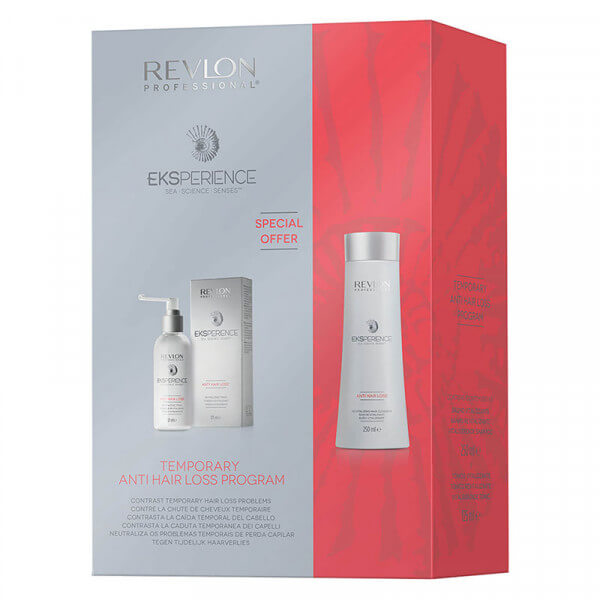 Price incl. VAT plus shipping costs
Contents: 1 Set
Item number: SW23568
Stock: Currently unavailable
Delivery time: from 5 business days
Revlon - Anti Hair Loss Program Eksperience Thanks to the Anti Hair Loss Program Eksperience...
more
Revlon - Anti Hair Loss Program Eksperience
Thanks to the Anti Hair Loss Program Eksperience from Revlon you can order the full program in the fight against hair loss directly to your home. The program consists of two products. The shampoo, the Revitalizing Hair Cleanser, is especially suitable against hair loss, as this strengthens the hair fibers. The second product, the Revitalizing Tonic, protects your hair against external influences and supports your hair in strength and structure. This two-part program is ideal for weakened and fine hair. By giving the hair root stability, it can grow again more intensively. After about 2 months you will notice the first results, the hair will feel stronger and when styling you will notice the newly created stability and structure. The loss of your hair can start sooner than you think! For this reason, it is beneficial to counteract it early.
Advantages:
Strengthens the hair fibers
Protection against external influences
Gives the hair structure again
Easy to use
Stabilizes the hair root
Rich ingredients
Contains marine spring water and vitamin E
Soothing effect on the scalp
Dermatologically tested
Hair Type:
This Anti Hair Loss program is ideally suited for fine and weak hair to counteract the first signs of hair loss. In addition, it exerts a soothing effect on the scalp.
Problem definition:
Have you already noticed the first signs of hair loss? The structure of your hair has become very sensitive? You have not yet discovered a suitable program to care for and strengthen your hair? So far you have thrown a lot of money out of the window for overpriced products that have not worked? With the Anti Hair Loss Program from Revlon's Eksperience line you will receive valuable support in the fight against hair loss! You'll notice visible and noticeable results after just the first 2-3 months.
Application:
We recommend you repeat this two-part program cyclically in spring and fall. During the application period you can use the 2 products daily.
Massage the shampoo into wet hair and rinse thoroughly. Afterwards you can apply the tonic to the scalp and massage it in well. By massaging in intensively, you promote blood circulation and stimulate the cells again, thus intensifying the application.
Tip:
To perfectly complement and expand the program, we recommend the Anti Hair Loss Revitalizing Lotion by Revlon.
| | |
| --- | --- |
| Brands: | Revlon Professional |
| Product line: | Eksperience |
| Product type: | hair oil, Hair setting lotion, shampoo |
| Requirements: | Haaraufbau, hair growth, anti-hair loss |
| Hair type: | brittle hair, damaged hair, fine hair |
| Ingredients: | Vitamine, Vitamin E |
| Scalp: | dry, greasy, normal, sensitive |
| Target audience: | ladies, men |
Links related to "Anti Hair Loss Program Eksperience"
Customer review for click&care: Anti Hair Loss Program Eksperience