Daily Care Cream Shampoo Fine Be Fabulous (250ml)
23%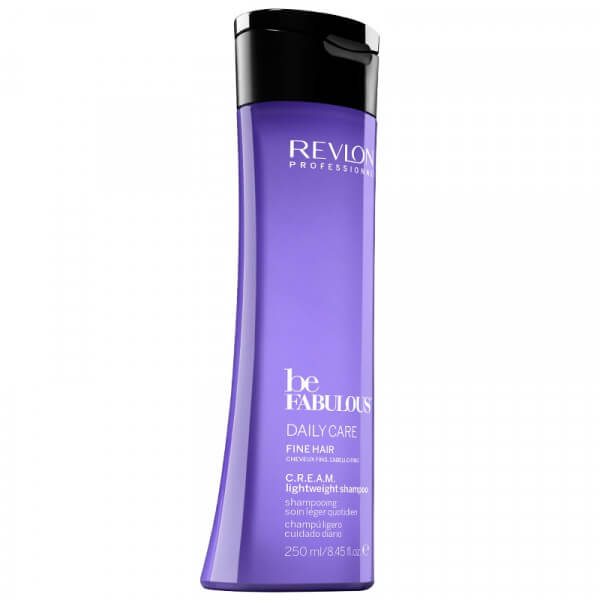 Price incl. VAT plus shipping costs
Basic price: CHF8.58 / 100 ml
Contents: 250 ml
Item number: SW16658
Available now 1–2 days (A-Post)
Revlon Professional's Daily Care Shampoo is specially formulated to meet the needs of fine, thin...
more
Revlon Professional's Daily Care Shampoo is specially formulated to meet the needs of fine, thin hair. It moisturizes, conditions and adds shine to hair. Especially fine hair needs special care. Fine hair has up to 50% less protein than thick hair. This means that it breaks and dries out more easily. Styling is also harder with fine hair than with thick hair. The Be Fabulous line for fine hair addresses exactly these problems. Because regular use of the hair products increases the elasticity of the hair and balances the moisture balance. The hair gets a natural beautiful shine without being weighted down by the shampoo. The innovative anti-age effect of the shampoo ensures youthful and healthy looking hair. It protects the hair tips from split ends and allows new hair to grow back healthy. The color protection formula of the Daily Care Cream Shampoo provides great color intensity and protects against color washout.
Advantages
ideal for fine and thin hair
does not weigh down the hair
moisturizes
gives the hair shine
protects the hair colour
can be used daily
protects against hair breakage and split ends
Application
Take a small amount of Daily Care Cream Shampoo and apply to the palm of your hand. Then massage it onto the scalp until a fine lather is formed. Cleanse your hairline with circular movements of the fingertips on your scalp. The light foam running down your hair cleanses it without straining it. Once the scalp is cleansed, rinse the shampoo with plenty of water. Then use the Daily Care Conditioner for fine hair.
Hair type
The shampoo is specially formulated for fine and thin hair. It cares for the hair and addresses the needs of fine hair. Due to its light formula, it does not weigh down the hair and prepares it ideally for styling.
Problem
You are looking for a shampoo for fine hair? Your hair needs moisture urgently? You want more shine in your hair? Your fine hair needs care? You are looking for a shampoo especially for fine hair? You want a shampoo that you can use every day? Then the Be Fabulous Daily Care Shampoo is the ideal hair care product for you.
Tip
Depending on the condition of the hair, it is recommended to use a hair mask regularly. For slightly dry hair, you can use a mask once a week. Very dry hair that feels like straw should be treated with a hair mask several times a week. To keep your hair looking good and healthy, you should use a conditioner after every hair wash. It closes the roughened cuticle layer of the hair and makes it easy to comb.
| | |
| --- | --- |
| Brands: | Revlon Professional |
| Product line: | Be Fabulous |
| Product type: | shampoo |
| Requirements: | Cleansing, moisture |
| Hair type: | fine hair |
Links related to "Daily Care Cream Shampoo Fine Be Fabulous (250ml)"
Customer review for click&care: Daily Care Cream Shampoo Fine Be Fabulous (250ml)