03 Maintainer ProPlex Hair Strengthener (100 ml)
33%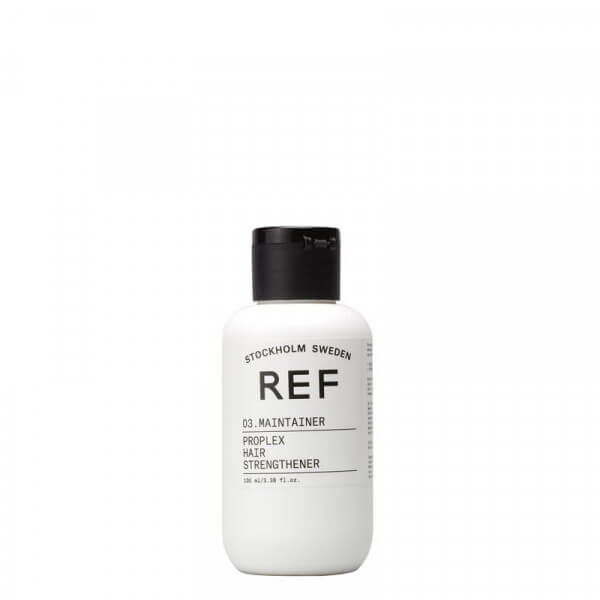 Price incl. VAT plus shipping costs
Contents: 100 ml
Item number: SW16271
Available now 1–2 days (A-Post)
The 03 Maintainer from Reference of Sweden serves as the final step in the Proplex Hair...
more
The 03 Maintainer from Reference of Sweden serves as the final step in the Proplex Hair Strengthener hair series. At the beginning of 2016, Ref. launched a new and innovative line for hair care during colouring. The Maintainer ensures long-lasting results. Your colour will not fade and your hair will stay shiny.
Advantage
Apply twice a week to condition the hair between treatments
Hydrates and protects the hair
100% vegan
no animal testing
natural ingredients: quinoa, jojoba oil, vitamin E, vitamin B5 and styling products
ensures long-lasting colour and stronger hair
UVB/UVA Protection
Hair type
All hair types can enjoy the rich care of this hair cream. It has been specially developed to complement the ProPlex line and therefore works best on hair treated with 01 Bonder and 02 Perfectioner.
Problem
Do you love natural products? Do you want high-quality care for your coloured hair? Have you dyed your hair and are you looking for a cream that can keep your colour as long as possible? Do you want to protect your hair from UVA and UVB rays? The 03 Maintainer from Reference of Sweden can fulfil your wishes. In combination with the other Ref. ProPlex products, the Maintainer can take care of your hair and prevent colour fading. Let yourself be pampered between colorations!
Composition
Technology and nature have been combined in the production of this cream and the result is a 100% vegan and animal-free product that boasts many natural ingredients. And now to these five ingredients for the health of your hair:
Quinoa - the seeds of this South American plant are rich in proteins that build up our hair. It was processed in the cream to create new bonds in the hair thanks to its high content of amino acids.
Jojoba Oil - gives your hair the right moisture kick for even more shine and elasticity. This high quality natural oil is very often used in cosmetics because of its unique properties. In this case it penetrates the cortex and nourishes the hair from the inside out.
Vitamin E - the beauty vitamin neutralizes oxidation in the hair to keep it young and healthy. It is extracted from seeds and oil and is essential for the health of the hair.
Vitamin B5 - also known as pantothenic acid, makes a high contribution to strong hair roots, which in turn helps to strengthen the hair. A strong hair root can supply the hair with sufficient vitamins and nutrients. It creates a protective barrier around the hair, creates light but shimmering reflexes and makes the hair easy to comb.
Application
Between two colorations or similar treatments, the Maintainer is applied twice a week to hair treated with ProPlex products. Take a generous amount in your hand and distribute it evenly over damp hair. Leave on for 10 minutes and then rinse off with shampoo and water.
Ti
p ProPlex Hair Strengthener promises fantastic results when all three products are used in combination. Also discover the 01 Bonder and the 02 Perfektor at click&care!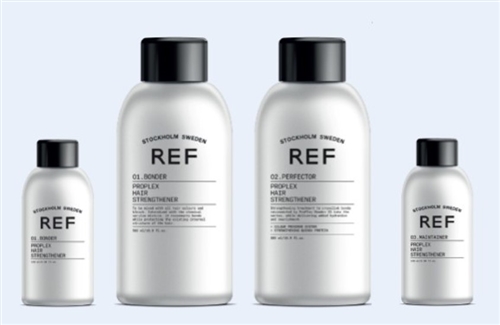 | | |
| --- | --- |
| Brands: | REF |
| Product line: | ProPlex Hair Strengthener |
| Product type: | Colour accessories, Treatment |
| Requirements: | colour protection, moisture, Regeneration, shine, Smoothness, UV protection |
| Hair type: | blonde, bleached hair, Chemically treated hair, coloured, dyed hair, normal hair |
Links related to "03 Maintainer ProPlex Hair Strengthener (100 ml)"
Customer review for click&care: 03 Maintainer ProPlex Hair Strengthener (100 ml)