02 Perfector ProPlex Hair Strengthener (500 ml)
32%
Price incl. VAT plus shipping costs
Basic price: CHF14.87 / 100 ml
Contents: 500 ml
Item number: SW16270
Available now 1–2 days (A-Post)
Refererence of Sweden presented a new and unique care series at the beginning of 2016, namely...
more
Refererence of Sweden presented a new and unique care series at the beginning of 2016, namely the ProPlex Hair Strengthener. Part of this series is the 02 Perfector, which is used immediately after the 01 Bonder. Advanced technologies and natural ingredients take care of your hair after colouring - exactly when it needs a lot of moisture and care.
Advantage
Hydrating and protecting
Colour remains shiny and strong for longer
Is applied after dyeing
100% Vegan
no animal testing
Rich ingredients: quinoa, jojoba oil, vitamin E, vitamin B5 and styling agents
Hair type
All hair types benefit from the gentle care of this cream. Hair that has just been coloured or lightened receives an extra portion of moisture and can be pampered with precious ingredients.
Problem
Definition Hair colouring is fun, because there are so many fashionable colours to try. But the disadvantage: the hair structure loses vitality and strength after each treatment. Does your hair also have such problems? Don't you want to do without colorations, but your hair needs the right protection? Are natural and vegan ingredients important for you? Do you want to test the Swedish innovation in hair colouring? Do you want to lighten your hair and are you looking for a gentle hair cream that can prevent damage? Reference of Sweden has created the ideal line for your needs. ProPlex Hair Strengthener with 02 Perfector, which is applied to the hair after colouring, ensures the bonds that the bonder had created.
Composition
Sweden is famous for its breathtaking nature and simplicity, these two qualities you will find in the 100% vegan ref. products. The ProPlex line contains five plant or natural substances that have unique effects on the hair. Quinoa seeds have been extracted from amino acids, the building blocks of proteins. They take care of the hair structure by creating new bonds in the cortex. The valuable jojoba oil also penetrates the cortex and gives shine and elasticity from within. Two essential vitamins are also contained in the cream: Vitamin E has an antioxidant effect and vitamin B5 creates a protective film that seals the other active ingredients in the hair. In addition, a styling agent also acts to provide strength and moisture. In addition, valuable oils from sunflowers have been extracted, which protect your hair from UVA and UVB rays and ensure colour retention.
Application
After dyeing supported by the 01 bonder, the 02 Perfector is applied. After you have freed your hair from color residues, you can apply the Perfector from Ref. Distribute it evenly over damp hair and leave it to work for 5-10 minutes. Then rinse with water. Ideally, this cream should not only be applied immediately after colouring, but also after lightening, e.g. with bleach.
Tip
The whole Ref. ProPlex Hair Strengthener line can be found here at click&care. Three simple steps to care for, protect and refine your hair!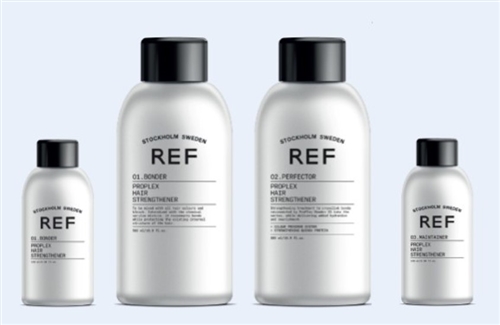 | | |
| --- | --- |
| Brands: | REF |
| Product line: | ProPlex Hair Strengthener |
| Product type: | Colour accessories |
| Requirements: | colour protection, Combing, moisture, Regeneration, shine, Smoothness, UV protection |
| Hair type: | blonde, bleached hair, Chemically treated hair, coloured, dyed hair, normal hair |
Links related to "02 Perfector ProPlex Hair Strengthener (500 ml)"
Customer review for click&care: 02 Perfector ProPlex Hair Strengthener (500 ml)