Intense Hydrate Masque (200ml)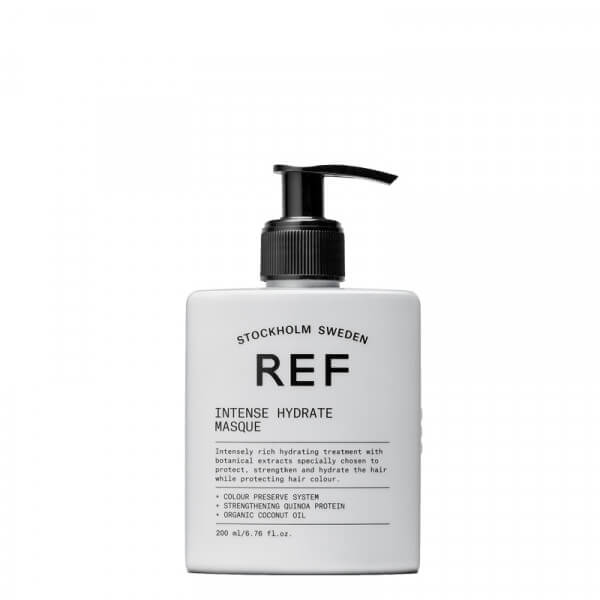 Price incl. VAT plus shipping costs
Basic price: CHF11.45 / 100 ml
Contents: 200 ml
Item number: SW17955
Available now 1–2 days (A-Post)
Dry, weakened hair needs an extra portion of moisture and care to be able to shine healthily...
more
Dry, weakened hair needs an extra portion of moisture and care to be able to shine healthily again. And because a hair mask is the best way to care for them, REF has developed Intense Hydrate Masque. This moisturizing hair mask is responsible for the hair's intensive moisture supply. With pure plant extracts and 100% vegan ingredients, dry hair is built and strengthened. It also benefits from additional strength and more shine. Thanks to the oil of citrus fruit, coconut and quinoa, the hair can appear healthy again and receives sufficient care.
Advantages
Moisturizing hair mask
100% vegan
Without parabens and sulphates
Ideal for dry, weakened hair
Provides moisture and shine
Colour retention system
Without animal testing
With quinoa, bergamot and coconut
Hair type
This intensively caring moisture mask is perfectly suited for dry and weakened hair. It provides intensive moisture and ensures a healthy shine in these hair types. It is also ideal for giving dry hair more intensive care.
Problem
Are your hair dry or does it feel weakened? Would you like to benefit from an intensive moisture and health of your hair? Do you want them to become smoother, softer and shinier? Do you not only want to care for your hair, but also strengthen and protect it? Is it difficult to comb your hair after a shower? Are you looking for a moisturizing hair mask that pampers you and your hair? Do you want to prevent your hair colour from fading? Do you pay attention to the composition of the care product and would you like to use pure vegan ingredients? Should your mask also be free of sulphates and parabens? Should the effect of an improvement be immediately noticeable? Then you will be completely satisfied with the Intense Hydrate Masque from REF!
Composition
To achieve the promised effect, REF uses pure vegan ingredients in this hair mask. But not only that, they also completely avoid sulphates, parabens and animal testing. Instead, the following ingredients have a restorative and moisturizing effect on your hair:
Coconut oil: Much of the valuable coconut oil is contained in this mask, as it has many moisturizing effects on the hair. The oil provides moisture and shine and makes the hair look beautifully natural. It is also not weighing down the hair.
Bergamot: The rich citrus oil is responsible for the distinctive shine. Thanks to its rich yet light formulation, the hair is cared for right down to the core, but not weighed down. Even dry, flying and statically charged hair benefits from bergamot oil, as it tames all these hairs.
Quinoa: These protein-rich grains are so valuable for the hair because they are responsible for strengthening and building the hair.
Application
After washing, distribute Intense Hydrate Masque evenly over damp hair. Leave it there for 3-10 minutes. Then rinse thoroughly.
Tip
: Your hair should be able to benefit from more moisture already when you clean it. That's why the REF shampoo in the Intense Hydrate line is perfect for hair that is dry and needs moisture.
| | |
| --- | --- |
| Brands: | REF |
| Product line: | Intense Hydrate |
| Product type: | Masks |
| Requirements: | moisture, shine, Smoothness |
| Hair type: | damaged hair, dry hair |
| Ingredients: | not tested on animals, paraben free, sulphate free, vegan |
Links related to "Intense Hydrate Masque (200ml)"
Customer review for click&care: Intense Hydrate Masque (200ml)