Neuro Style - HeatCTRL Blowout Primer - 139 ml
10%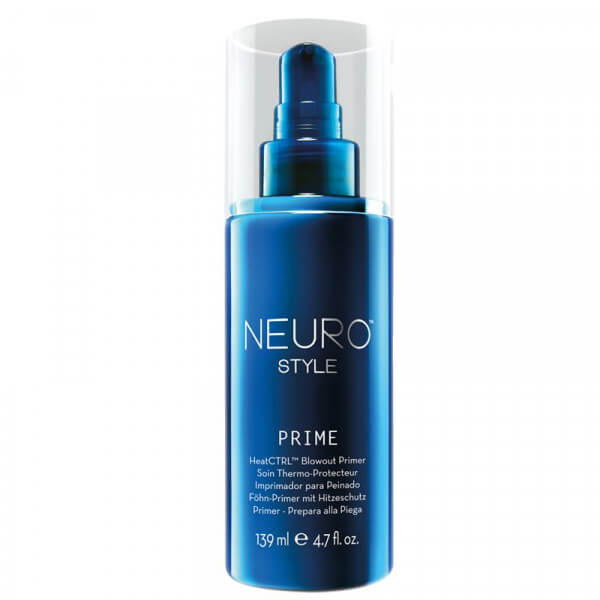 Price incl. VAT plus shipping costs
Basic price: CHF23.24 / 100 ml
Contents: 139 ml
Item number: SW20315
Available now 1–2 days (A-Post)
HeatCTRL Blowout Primer - blow drying without damaging the hair Before blow-drying your...
more
HeatCTRL Blowout Primer - blow drying without damaging the hair
Before blow-drying your hair, you should apply Neuro's HeatCTRLBlowout Primer to your hair. Why? So that your hair is protected from the heat right from the start without having to give up blow-drying. The primer also ensures that the hair gains control and suppleness without becoming brittle and dry. So that you can straighten or blow-dry your hair every day without fearing the consequences of damaged hair. You'll see your hair will have improved after just a few applications, looking more alive and shiny. A must for anyone who exposes their hair to heat.
Advantages
Your hair gets heat protection
Shinier and smoother hair
Revitalization of damaged hair
Smoothes the hair
Provides control when blow-drying
Without animal testing
Hair type
The Neuro Style Prime HeatCTRL Blowout Primer is suitable for all hair types. Especially for hair that has been damaged by heat or that is often exposed to intense heat.
Problem
You blow-dry your hair daily or more often? You want to protect your hair from the heat? Your hair could use intensive heat protection? You have brittle, dry hair that needs to be soft? Then we can warmly recommend the Neuro HeatCTRL Blowout Primer. Its unique and new formula makes it possible to protect your hair from heat by reducing the heat transfer rate from the roots to the ends, but it also nourishes your hair and repairs damaged hair.
Application
Use only a small amount and apply to towel dry hair. Then you can blow-dry and style your hair as usual.
Composition
Neuro products are not tested on animals.
Tip
If you would like to have more volume in your hair, we recommend using the Neuro Lift HeatCTRL Volume Foam. The Volume Foam not only protects the hair from heat, but also cares for the hair up to the ends and makes it fuller. The foam ensures that when blow-drying your hair your volume increases and curls and waves are defined.
| | |
| --- | --- |
| Brands: | Neuro, Paul Mitchell |
| Product type: | heat protection, styling cream |
| Requirements: | heat protection, hold, moisture, Smoothness |
| Hair type: | Chemically treated hair, coloured, dyed hair, damaged hair, damaged hair, dry hair, normal hair |
Links related to "Neuro Style - HeatCTRL Blowout Primer - 139 ml"
Customer review for click&care: Neuro Style - HeatCTRL Blowout Primer - 139 ml