Minerals Clay Styling Clay ‑ 50ml
10%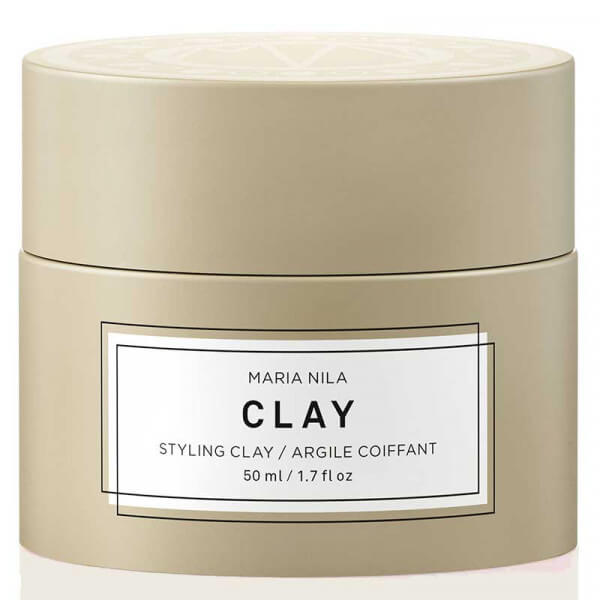 Price incl. VAT plus shipping costs
Basic price: CHF42.00 / 100 ml
Contents: 50 ml
Item number: SW22715
Available now 1–2 days (A-Post)
Maria Nila Minerals Clay Styling Clay - 50ml A defining hair wax that gives all your favourite...
more
Maria Nila Minerals Clay Styling Clay - 50ml
A defining hair wax that gives all your favourite hair styles texture and a matte look? With the Maria Nila Styling Clay you will set your hair perfectly in scene! The hair paste gives your hair enough moisture. This keeps your hair healthy and fresh even during styling. Thanks to the water-based formula, this wax can also be washed out easily. The wax has an oriental, woody scent with notes of lily of the valley and citrus fruits.
Of course we also thought about our vegan friends. The styling products of Mara Nila are all 100% vegan and based on minerals. The product was produced without animal testing and no beeswax or other animal substances were used. The whole hair wax line of Maria Nila was inspired by the power of nature. Ideal for all natural looks with a matte finish. Another advantage is the environmentally friendly packaging.
Advantages
available in two different sizes
dries very fast
Stop 3/5
suitable for all hair
100% vegan
Maria Nila does not perform animal experiments
enriched with minerals
matt finish
with colour protection
protects against free radicals
enriched with natural minerals
Free from parabens and sulphates
Moisturizing
Provides texture
Environmentally friendly packaging
Hair type
Our Maria Nila Styling Clay is suitable for all hair types. Whether dyed, dry or normal hair. Thanks to the olive oil and the vegetable proteins that are integrated in this hair wax, your hair gets enough moisture and protects it from drying out.
Problem
You want a natural look? Are you looking for a hair wax that smells good? Are you looking for a styling product that not only holds your hair in place, but also gives it enough moisture? Are you looking for a product that can be washed out easily? Do you prefer a styling product that is 100% vegan? No problem! Fall in love with our Styling Clay by Maria Nila. The hair wax is enriched with valuable minerals and gives your hair an ideal and natural hold.
Application
The Styling Clay is super easy to use. Remove a small amount of wax from the can with your fingers. Spread the wax on the palm of your hand and spread it evenly. Then stroke your palm through your hair and style it as desired. You will be amazed how easy it is to apply the wax to your hair.
You want to give your hair an even better hold? Then we can only recommend the hairsprays from Maria Nila.
Composition
The Maria Nila Styling Clay from the Minerals series is 100% vegan. This product has been produced entirely without animal testing. Thanks to the minerals, beeswax or similar substances can be avoided. Paraebene and sulfates were also avoided. The special feature of the Styling Clays is that it gives your hair extra moisture and you get a natural styling.
Tip
Discover here our wide range of Maria Nila styling products, which are 100% vegan and without animal testing cheap at clickandcare.ch
| | |
| --- | --- |
| Brands: | Maria Nila |
| Product line: | Maria Nila Minerals |
| Product type: | hair wax |
| Requirements: | Mattification |
| Hair type: | alle Haartypen, normal hair |
| Hold: | medium hold |
| Ingredients: | paraben free, sulphate free, vegan |
| Fragrance: | citrus, floral, fresh, woody |
| Target audience: | men |
Links related to "Minerals Clay Styling Clay ‑ 50ml"
Customer review for click&care: Minerals Clay Styling Clay ‑ 50ml