Maria Nila Wellness Box True Soft
10%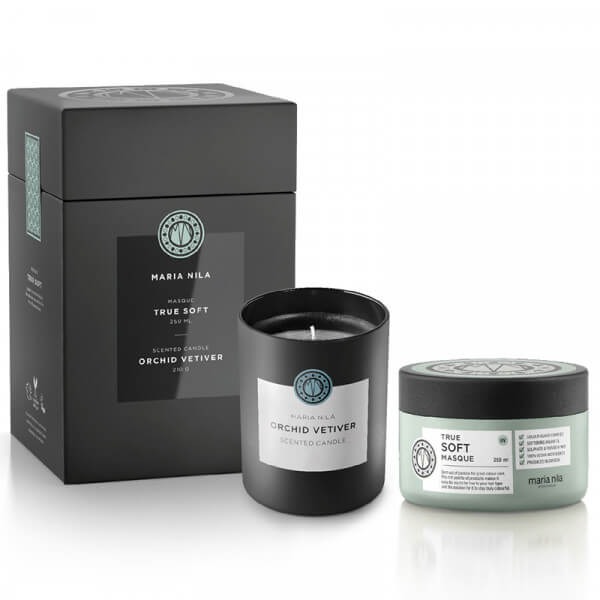 Price incl. VAT plus shipping costs
Contents: 1 Set
Item number: SW20781
Available now 1–2 days (A-Post)
Set True Soft Mask + scented candle - Wellness for your hair The set True Soft Mask + scented...
more
Set True Soft Mask + scented candle - Wellness for your hair
The set True Soft Mask + scented candle by Maria Nila is the wellness program for body, soul and hair.
The box contains a stylish scented candle with a pleasant floral scent of orchids and a deep hair mask that nourishes and softens your hair.
Treat your hair with the Maria Nila True Soft Mask, a deep conditioning programme that restores your hair's healthy and natural look. The gentle treatment for dry hair, moisturizes and nourishes silky-smooth. Perfect for dry hair. Smoothing argan oil reduces frizz and static while the colour protection complex protects the hair and reduces colour loss caused by shampooing, heat styling, UV rays and free radicals. Give your hair and yourself a restful, caring wellness programme.
Content
Content
Maria Nila Structure Repair Mask (250ml)
Maria Nila orchid scented candle (210g)
Advantage
Strengthening mask for dry hair
Especially for damaged, dry and chemically treated hair
With smoothing argan oil
Strengthens the hair from within
With Colour Guard Complex
Protection against UV rays
Natural ingredients
100% vegan and free from animal testing
Without parabens and sulphates
Produced in Sweden
Hair type
The True Soft Mask by Maria Nila is specially created for dry hair. Whether your hair is damaged by coloration, sun or heat, it needs an intensively caring hair mask. It is also good for hair that is difficult to control, as its ingredients build up the hair and protect it from frizz and electricity. For colored hair, the built-in color protection ensures extra long lasting hair color.
Problem
Are you looking for a gift, for yourself or someone else? Is your hair weakened, dry and damaged? Do they need intensive care to get healthy and strong again? Have they become damaged and brittle due to chemical treatments, dyeing, lightening or similar? Do you also suffer from strawy and dull hair? Then this True Soft Mask by Maria Nila is just the right thing for you. It builds up your weakened hair and gives it the necessary strength with every application. The damaged hair structure is rebuilt from the inside out and is stronger and more robust against external influences. Are you looking for a care product to intensively pamper your hair 1-2 times a week? But should it consist of natural and caring ingredients? Do you pay attention to the composition of your hair care? Then this intensively caring and vegan hair mask is exactly the right thing for you.
Composition
This hair mask was enriched with nourishing argan oil. This nourishes the dry hair structure and rebuilds it from within. This complex of argan has been found especially for dry hair and now helps the natural regeneration from within. Furthermore, this hair mask is composed of purely natural and even 100% vegan ingredients. Completely free of parabens and sulfates it pampers your hair with the powers of nature. It is free from animal testing and contains the Colour Guard Complex. This also protects the hair from UV rays and ensures longer-lasting, radiant colour power.
Application
Apply this hair mask in freshly washed, damp hair. Leave on for 3 minutes and rinse out afterwards. For a more intensive effect, you can also leave the mask on longer, i.e. 5-10 minutes. Finish the application with the Structure Repair Conditioner after rinsing. This closes the cuticle layer of the hair and makes it incredibly soft.
Tip
Discover the Maria Nila line for dry hair: True Soft. In addition to this hair mask, it contains a gentle cleansing shampoo, an uplifting conditioner and a repairing Leave In Cream.
| | |
| --- | --- |
| Brands: | Maria Nila |
| Product line: | True Soft |
| Product type: | Hair masks, Set, sun protection |
| Requirements: | anti-frizz, moisture, UV protection |
| Hair type: | damaged hair, damaged hair, normal hair |
| Ingredients: | not tested on animals, paraben free, sulphate free, vegan |
Links related to "Maria Nila Wellness Box True Soft"
Customer review for click&care: Maria Nila Wellness Box True Soft