Kerasilk Revitalize Nourishing Shampoo - 250ml

P

for Points
19%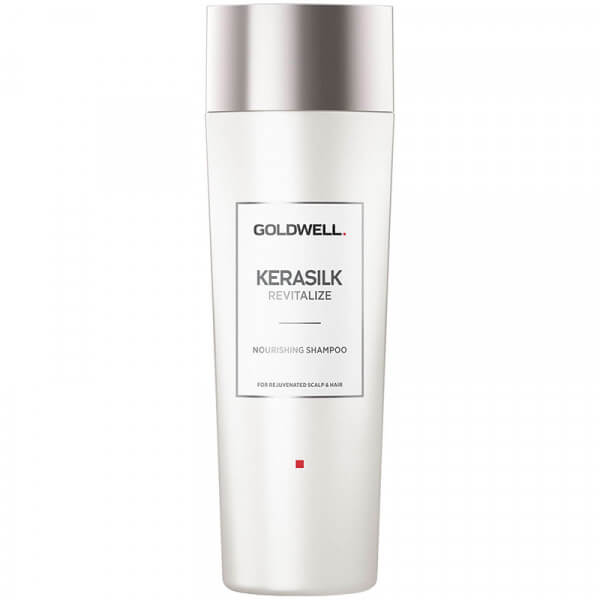 Price incl. VAT plus shipping costs
Basic price: CHF9.68 / 100 ml
Contents: 250 ml
Item number: SW21173
Available now 1–2 days (A-Post)
Kerasilk Revitalize Nourishing Shampoo The Kerasilk Revitalize Nourishing Shampoo from...
more
Kerasilk Revitalize Nourishing Shampoo
The Kerasilk Revitalize Nourishing Shampoo from Goldwell is especially suitable for dry and sensitive scalps. It is a moisturizing shampoo that preserves the moisture content of the scalp and builds up protection against negative environmental influences. This protects the scalp and fights scalp aging. The condition of the scalp should not be neglected as it is the basis for healthy and beautiful hair. With the nourishing shampoo and its ingredients ectoine, grape seed extract, silk and keratin, the sensitive scalp is intensively moisturized, irritations are soothed for a long time and the scalp and hair are gently cleaned.
Advantage
Provides intensive moisture
Builds up protection against negative environmental influences
Fights scalp aging
Soothes scalp irritations
Gently cleanses
Contains Ectoin
Contains grape seed extract
Ingredients
The nourishing shampoo is enriched with Ectoin, a cell protector of nature, which protects the scalp sustainably against negative environmental influences and oxidative stress. A further ingredient is grape seed extract, which provides dry, sensitive scalps with intensive moisture, thus reducing scalp aging. All Kerasilk Revitalize products are also supported by the KeraTransform technology. The technology contains modified keratin and weightless silk, which serve for a better hair structure and color protection.
Problem
Your scalp is dry and sensitive? Are you looking for a moisturizing shampoo? You want a shampoo that protects against all environmental influences and free radicals? Your scalp and hair is stressed? You want a vital scalp and hair structure again? Then the Goldwell Kerasillk Revitalize Nourishing Shampoo is the right product for you to help your problems.
Application
Apply the nourishing Goldwell Kerasilk Revitalize Shampoo to damp hair, lather well and then rinse thoroughly. Important: Avoid eye contact.
Tip
For optimal results and a stronger, healthier scalp, it is recommended to supplement Goldwell Kerasilk Revitalize Nourishing Shampoo with Goldwell Kerasilk Revitalize Series. The Goldwell Kerasilk Revitalize Nourishing Serum can be optimally combined with the nourishing shampoo for even more intensive care.
| | |
| --- | --- |
| Brands: | Goldwell |
| Product line: | Kerasilk Revitalize |
| Product type: | shampoo |
| Requirements: | moisture, Smoothness |
| Hair type: | coloured, dyed hair, curly hair, damaged hair, dandruff-prone hair, dry hair, fine hair, greasy hair, normal hair, stubborn hair |
| Scalp: | dry, greasy, sensitive |
Links related to "Kerasilk Revitalize Nourishing Shampoo - 250ml"
Customer review for click&care: Kerasilk Revitalize Nourishing Shampoo - 250ml