Moisture Argan Oil Moisture Spray (250ml)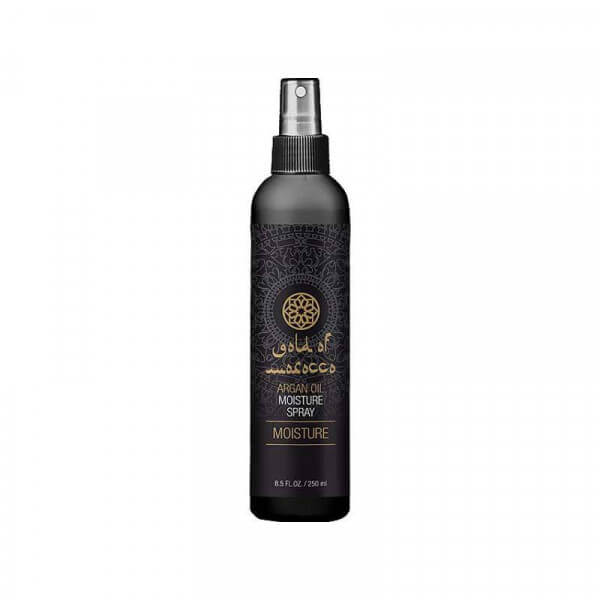 Price incl. VAT plus shipping costs
Basic price: CHF15.76 / 100 ml
Contents: 250 ml
Item number: SW16251
Available now 1–2 days (A-Post)
How about an intensive spray cure for more moisture - with an immediate effect? The Moisture...
more
How about an intensive spray cure for more moisture - with an immediate effect? The Moisture Argan Oil Moisture Spray from Gold of Morocco is exactly what you need in this case! As an intensive leave-in instant treatment, it intensively pampers dry and stressed hair with moisture and valuable care. Thanks to the newly gained moisture, the hair will shine with brilliance and full suppleness. With the valuable Moroccan argan oil, the 10 most common hair problems, and especially dry hair, are efficiently combated. Together with keratin and avocado oil, dry and brittle hair no longer stand a chance. Experience the moisture from the bottle for the instant effect.
Advantages
Spray cure for more moisture
Intensive immediate effect
For stressed, dry hair
With valuable Moroccan argan oil
Additional avocado oil and keratin for more shine
Repairs damaged hair structures
Prevents static electricity
No rinsing necessary
Hair type
moisture is a popular aid for all hair types. But dry and stressed hair literally absorbs the moisture. This is why this hair type benefits best from this intensive instant care. Your damaged, brittle hair will shine with a new shine and improved hair structure.
Problem
Are you suffering from dry and stressed hair? Does your hair long for an extra portion of moisture? Do you want to pamper your hair in the lengths and tips with an immediately effective care that also gives shine and suppleness? Do you want to improve and strengthen your hair structure and benefit from incredibly soft and smooth hair? Then Moisture Argan Oil Moisture Spray is waiting for you! The instant effect pampers your hair from root to tip.
Composition
This moisturizing spray has its power from the high-quality Argan oil from Morocco. This oil is the main ingredient and has an extremely moisturizing effect and pampers the hair. With newly gained moisture the hair shines wonderfully and becomes super smooth. The avocado oil provides the additional shine and the wonderful suppleness - especially for coloured hair. The keratin-enriched moisturising spray repairs damaged hair structures and leaves hair healthy and strong again. Experience the improved combability thanks to smooth, soft hair with extra moisture!
Application
After washing with Moisture Argan Oil Shampoo and Moisture Argan Oil Conditioner, the Moisture Argan Oil Moisture Spray comes into play. Spray it evenly into towel-dried hair. Afterwards, comb your hair well (this should no longer be a problem thanks to the spray). Alternatively, you can also massage the spray with your fingers. Afterwards, style your hair as usual. Rinse out is no longer necessary!
Tip
For that extra shine in between, just spray a few times on dry hair - and your hair will shine again!
| | |
| --- | --- |
| Brands: | Gold of Morocco |
| Product type: | Treatment |
| Requirements: | Combing, moisture, Smoothness |
| Hair type: | damaged hair, dry hair |
| Ingredients: | Argan oil, Keratin |
Links related to "Moisture Argan Oil Moisture Spray (250ml)"
Customer review for click&care: Moisture Argan Oil Moisture Spray (250ml)