Sun Sensitive After Sun Lotion - 150ml
30%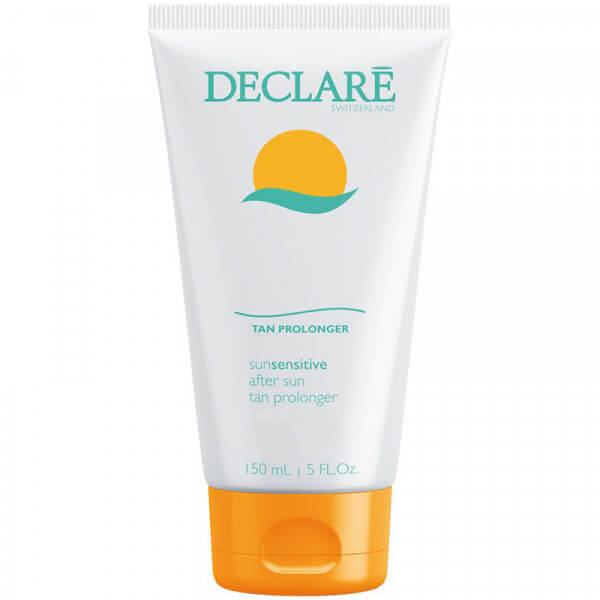 Price incl. VAT plus shipping costs
Basic price: CHF18.10 / 100 ml
Contents: 150 ml
Item number: SW21138
Available now 1–2 days (A-Post)
Sun Sensitive After Sun Lotion - 150ml The light Sun Sensitive After Sun Lotion from the...
more
Sun Sensitive After Sun Lotion - 150ml
The light Sun Sensitive After Sun Lotion from the Swiss brand Declaré offers you comprehensive protection after sunbathing. It is the perfect after sun lotion, especially for people with sensitive skin. Not only protect your skin, it also gives you the opportunity to enjoy your holiday tan longer!
Advantages
Provides moisture
Works against drying out
Prolongs the tan
Dermatologically tested
Prevents skin aging
Helps to rebalance the moisture balance
Acts naturally
Skin type
The After Sun Lotion is characterized by its great tolerance and effectiveness. It appeals especially to people with sensitive skin. It not only helps to restore the natural moisture balance, it also prolongs the duration of the tan. This is achieved by the rich ingredients that counteract the drying out of stressed skin. Furthermore, the lotion is rich in aloe vera. This has a low irritation potential and is therefore perfect for sensitive and irritated skin as well as for allergy sufferers.
Problem
Do you like tanning but then always have to deal with burns and overstrained skin? Then Declaré After Sun Lotion is just right for you. Due to the skin-compatible active ingredients and fragrances it is suitable for everyone. It also stimulates collagen production. Through this process the fibre structure of the skin is renewed and you can prevent premature skin aging.
Composition
The lotion contains among other things the special Luffa oil. This is known for the high protection of the skin, against stress and visible regeneration. This lotion also contains the high-quality Aloe Vera, which has a cooling effect on your skin. In addition, this ingredient has a moisture-preserving effect. The milk provides intensive moisture which can be felt on your skin after only one application. In addition, the body lotion is pleasant to wear due to its light consistency, compared to other oily emulsions. It is also quickly absorbed and gives you a feeling of freshness.
Application
After exposure to the sun, apply with circular movements to the stressed skin and allow to absorb. The lotion does not contain any sun protection, it only serves as skin care after tanning.
Tip
For greater protection during tanning, we recommend Sun Sensitive anti-wrinkle sun cream. It protects your skin from harmful sunrays and burns. It is available from protection factor 10 to 50+. For even better results, you can also use Sun Sensitive After Sun Soothing Shower Foam. This shower foam is rich in minerals and cools your skin. The above mentioned products are also available in our shop.
| | |
| --- | --- |
| Brands: | Declaré Switzerland |
| Product type: | After sun, Body lotion |
| Requirements: | Calming, Cooling, moisture, Refreshment, Regeneration, Relaxation, Smoothness |
| Skin type: | dry skin, normal skin, sensitive skin |
| Ingredients: | pH neutral |
Links related to "Sun Sensitive After Sun Lotion - 150ml"
Customer review for click&care: Sun Sensitive After Sun Lotion - 150ml