Age Essential Essence (150ml)
P

for Points
31%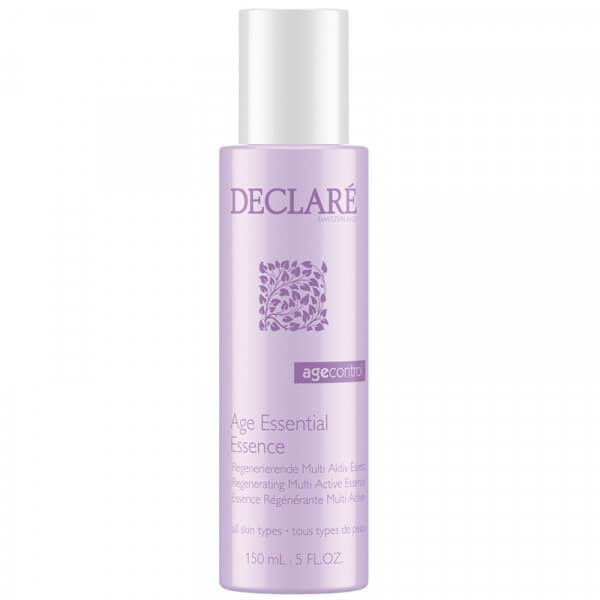 Price incl. VAT plus shipping costs
Basic price: CHF32.03 / 100 ml
Contents: 150 ml
Item number: SW18401
Available now 1–2 days (A-Post)
They say the skin ages with it. In some people you can see the signs of age earlier, in others...
more
They say the skin ages with it. In some people you can see the signs of age earlier, in others later. That depends on genetics on the one hand, and on lifestyle on the other. When it comes to genetic heritage, we don't have the say, but we can certainly get involved in skin care. Especially for sensitive skin, prevention is the A&O. The skin loses its resistance due to the hormonal influence, so that inattention to skin care and lifestyle is becoming increasingly evident. Only after a certain age can the consequences of alcohol consumption, an unhealthy and unbalanced diet, stress, too little sleep and above all too much sunshine be recognized. The elasticity decreases, the skin loses more and more moisture and pigmentation spots become visible. As the skin has now become more demanding, it needs fair care. Declare Age Essential provides deep-acting care that soothes and vitalises sensitive mature skin.
Declare Age Essential Essence is a nourishing essence that resembles a serum. The combination of valuable active ingredients makes this ultra-light product so effective: it provides refreshing moisture, reduces the visibility of fine lines and sagging areas of the skin. Age spots and redness are visibly reduced and the complexion is smooth and radiates youthful freshness. At the same time it stimulates the skin's repair sensors, provides intensive protection for the cells and prolongs their life span. Suitable for perfect skin care and a fresh, youthful complexion. The essence serves as the first step in caring for skin that urgently needs moisture.
Advantages
very easy care
moves in fast
provides moisture
reduces age spots
reduces redness
makes the complexion look smooth and radiant
preserves a youthful complexion
ideal first step of care
Skin type
As the face serum serves to activate and rejuvenate, moisturize and vitalize, it is best suited for demanding and mature skin. However, many also incorporate it preventively into their daily skin care routine.
Application
Declare Age Essential Essence should be applied to cleansed skin in the morning and evening and gently massaged into the skin. Afterwards it can be continued with other Declare skin care products such as the Age Essential Cream.
Ingredients
The product contains peony extract with peptides and hyaluronic acid. These are important ingredients that serve to vitalize mature skin. Peony extract Since ancient times, the peony has been used as a symbol of beauty. It was said to have healing powers that could bring even those believed dead back to life. Because of its healing powers it was used against many diseases of the liver, kidney and heart. Later it was also used as a remedy for women's diseases and gout. In some books, however, it was also called a drug. Today, peony is mainly used in cosmetics. It can be used to conjure up an even skin colour and even minimise age spots. It also has an antioxidant effect and frees the skin from environmental influences.
Highly effective peptides and biomimetic amino acid chains connect the six essential building blocks of connective tissue. These building blocks include collagen I, III and IV, hyaluronic acid, fibronectino and laminin-5. The synthesis of these building blocks frees, smoothes and lifts the skin from deep wrinkles.
Hyaluronic acid. Another important ingredient of this product is hyaluronic acid which, according to new studies, is effective against wrinkles. It is like a water reservoir, which helps the skin regain its elasticity. The long-chained hyaluronic acid provides suppleness and the short-chained one has an anti-aging effect.
| | |
| --- | --- |
| Brands: | Declaré Switzerland |
| Product line: | Age Control |
| Product type: | serum |
| Requirements: | Anti-Aging, Cleansing |
| Skin type: | mature skin |
Links related to "Age Essential Essence (150ml)"
Customer review for click&care: Age Essential Essence (150ml)