Shower Gel Anti-Moskito Duschgel - 200ml
39%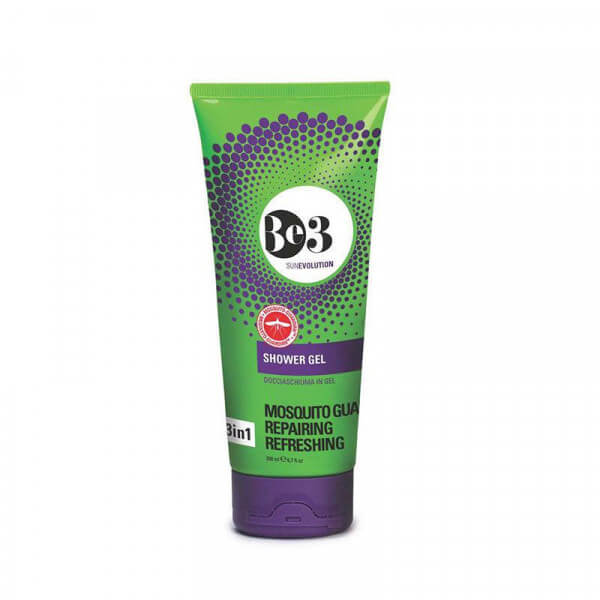 Price incl. VAT plus shipping costs
Basic price: CHF4.58 / 100 ml
Contents: 200 ml
Item number: SW19629
Available now 1–2 days (A-Post)
Be3 Sun Evolution convinces with innovative products, such as the Shower Gel Anti-Mosquito...
more
Be3 Sun Evolution convinces with innovative products, such as the Shower Gel Anti-Mosquito Shower Gel. This shower gel protects your skin from the annoying mosquitoes and can be used very easily when showering. It is suitable for holidays, but also for the domestic mosquitoes on the balcony in the evening. This shower gel cleans the skin and at the same time leaves a natural protection on the skin against the insects. Unlike traditional insect repellent products, this shower gel has a pleasant smell and does not leave a sticky feeling on the skin.
Advantages
Insect screen in the form of a shower gel
Without sticky feeling
Leaves a pleasant fragrance
Cleanses the skin with mild substances
Refreshing
Mosquito Guardian with natural ingredients
Also suitable for sensitive children's skin
Dermatologically tested
Without nickel and parabens
Without SLS
Skin type
This shower gel has been specially developed for sensitive and delicate skin. It is therefore suitable for all skin types. Thanks to its natural and non-aggressive ingredients it is even recommended for sensitive children's skin.
Problem
Mosquitoes can bite, mosquitoes can be harmful to health and sometimes they are even dangerous. In many cases, however, they are above all tiresome and annoying. That's why Be3 has developed a mosquito repellent that is easy to apply in the shower and protects your skin from these annoying insects. This mosquito repellent gel is suitable for many situations, whether you are travelling in exotic countries or spending the evening on the balcony. Do you know the annoying feeling on your skin after applying a mosquito repellent? It often sticks or itches and the scent is not very pleasant. With this gel you don't know all these problems. The unique composition of the natural protection does not stick and leaves a refreshing scent and a pleasant feeling on the skin.
Composition
The Shower Gel Anti-Mosquito Shower Gel contains various active ingredients to protect against mosquitoes and to care for your skin. The most important ingredient is Mosquito Guardian. It consists of an innovative scent mixture of natural extracts that protects the skin from insect bites. The mild cleaning of the skin is also achieved by a gentle mixture without aggressive substances such as SLS. The contained menthol refreshes the skin after the shower for a pleasant skin feeling.
Use
shower and wash yourself normally in the shower. Then use the Shower Gel Anti-Mosquito Shower Gel. Turn off the water and apply the shower gel to the still wet skin. Let it work for about 3 minutes before rinsing it off with warm water.
Tip
For mosquito protection combined with sun protection, Be3 Sun Evolution also has the right solution for you. The Natura Sport Sun Protection Spray protects you from the sun during sports and also contains built-in mosquito protection,
| | |
| --- | --- |
| Brands: | Be3 |
| Product type: | Shower gel |
| Requirements: | Cleansing |
| Ingredients: | paraben free |
| Target audience: | children, ladies, men |
Links related to "Shower Gel Anti-Moskito Duschgel - 200ml"
Customer review for click&care: Shower Gel Anti-Moskito Duschgel - 200ml