Hydration Mania Body Spray - 100ml
39%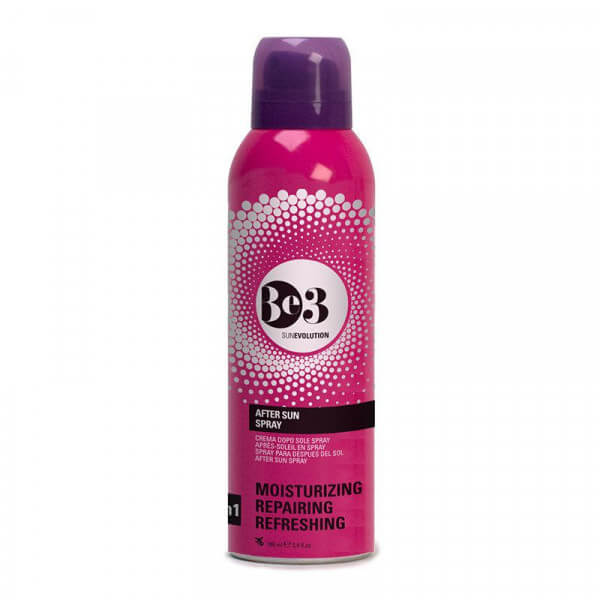 Price incl. VAT plus shipping costs
Contents: 100 ml
Item number: SW19639
Available now 1–2 days (A-Post)
The sun can dry out your skin and removes a lot of moisture. This should therefore be returned...
more
The sun can dry out your skin and removes a lot of moisture. This should therefore be returned to it after a long day in the sun. With the travel size After Sun Spray from Be3 Sun Evolution, you give your skin back the moisture it needs. A unique combination of ingredients soothes the skin and reduces redness and burns after exposure to the sun. Thanks to the spray head, the After Sun Spray can be evenly distributed over the entire body. Pamper your skin with the necessary care and benefit from a longer lasting tan.
Advantages
After Sun Spray with moisturizing care
Repairs the damaged skin cells
Reduces redness and burns
Cools sun-stressed skin
With menthol and aloe
Protects against free radicals
Dermatologically tested
Free from nickel and parabens
Suitable for hand luggage
Skin type
This after sun spray is suitable for all skin types. It is most effective if you apply it to sun-stressed skin after a long day in the sun. Its ingredients are mild and therefore also suitable for sensitive skin.
Problem
Definition During a long day in the sun, your skin is deprived of a lot of moisture. This moisture should therefore be replenished in the evening so that it does not dry out. With this After Sun Spray you moisturize your skin and give it the opportunity to regenerate itself. Direct sunlight can also cause redness on the skin. Therefore, this After Sun contains cooling and regenerating ingredients that reduce this redness. With its natural ingredients, this Be3 spray also protects against free radicals that cause the skin to age. The spray head of this spray also allows for easy application. Benefit from the longest possible tan, thanks to the right care of your skin.
Composition
In this After Sun Spray different active ingredients work. One of these components is called D.S.B.C. This substance has an anti-inflammatory effect and soothes reddened skin. It also protects the skin from free radicals and provides it with intensive moisture. Inhipase is another ingredient which has an anti-inflammatory effect and minimizes redness. It also restores moisture to the skin and thus combats dry skin. Siegesbeckia Orientalis is a natural ingredient which is contained in the product. It supports the inflammation process of the skin. Another important ingredient is aloe vera. This plant has a very moisturizing effect and makes the skin smooth and soft. In addition, it soothes inflammation and protects the skin in the long term thanks to its moisturizing properties. The cooling menthol additionally refreshes the skin with every application.
Application
Spray the Be3 After Sun Spray directly onto the skin. In regular movements and at a distance of 30cm you will achieve the best effect. If necessary, you can then massage the product into the skin until it has been completely absorbed. Repeat the application throughout the day whenever you think your skin needs moisturizing.
For use on the face, spray the After Sun Spray into your hands first and then spread it over the face.
Tip
If you need more than 100ml, you can also find Be3 Sun Evolution After Sun Spray in the Family Size of 200ml in the shop. This size is ideal for longer holidays and is very economical.
| | |
| --- | --- |
| Brands: | Be3 |
| Product type: | After sun |
| Requirements: | moisture, Refreshment |
| Ingredients: | paraben free |
Links related to "Hydration Mania Body Spray - 100ml"
Customer review for click&care: Hydration Mania Body Spray - 100ml