Warm & Care Foot Cream - 50ml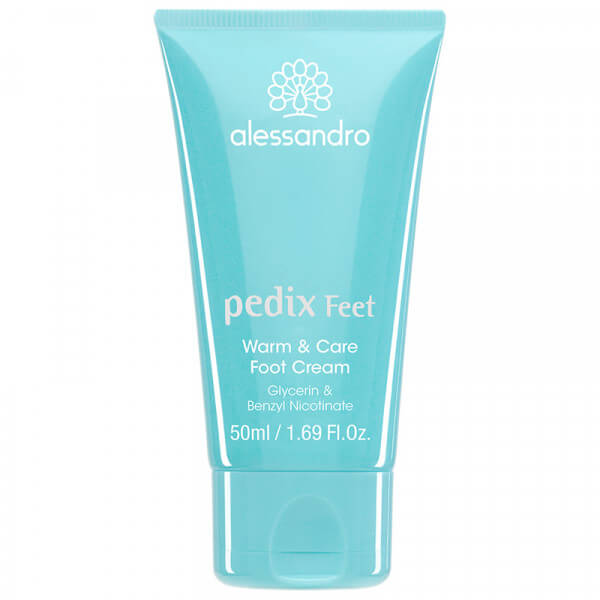 Price incl. VAT plus shipping costs
Basic price: CHF27.80 / 100 ml
Contents: 50 ml
Item number: SW22271
Available now 1–2 days (A-Post)
Warm & Care Foot Cream - 50ml This caring Warm & Care Foot Cream by alessandro...
more
Warm & Care Foot Cream - 50ml
This caring Warm & Care Foot Cream by alessandro warms the feet within minutes and lasts for several hours. You will feel an immediate feeling of warmth and a wonderful suppleness of your feet. At the same time, the cream provides a lot of moisture, so your feet don't dry out. This product protects your feet from external influences and reduces the dryness of your feet. Especially in the cold season, your skin suffers from extreme dryness, even on the feet. With this cream, you can avoid any discomfort on your feet and give them a wonderful and smooth feeling. The skin's thermoreceptors are activated, giving a pleasant feeling of warmth all over your feet. The receptors are located in the skin and serve to perceive various temperatures. Thus they are involved in the creation of the feeling of warmth or cold. Gylcerine is a moisture retention system which acts as a moisturizer and gives your skin a good tolerance. The ingredient of Benzyl Nicotinate is a blood circulation-promoting and at the same time warming ingredient of this foot cream, which is for external use only. This unique cream gives you a soothing and pleasant feeling without weighing you down or leaving residues.
Advantages
Moisture
Freshness
Feeling of warmth
Alleviates dryness
Daily applicable
Pleasant feeling
Application
You can spread the foot cream evenly on the skin of your feet and rub it in evenly. Then leave it to work in and wash your hands off well. Avoid contact with the eyes if possible.
Problem
Do you hate extremely dry feet? Especially in winter or during the cold seasons? Then this warming foot cream is just right for you to give your feet intensive and invigorating care.
Tip
If this cream also delights you, discover more of these incredible products from Alessandro.
| | |
| --- | --- |
| Brands: | Alessandro |
| Product line: | PedixFeet |
| Product type: | Foot cream |
| Requirements: | Calming, moisture, Relaxation, Smoothness |
Links related to "Warm & Care Foot Cream - 50ml"
Customer review for click&care: Warm & Care Foot Cream - 50ml