Sexy Jill Nagellack (10ml) alessandro
31%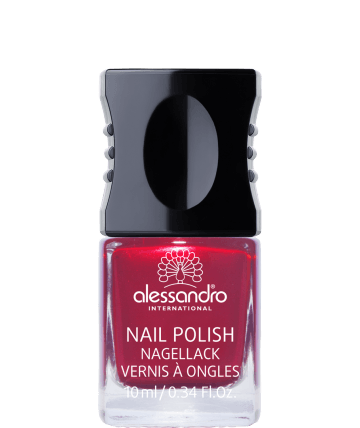 Price incl. VAT plus shipping costs
Basic price: CHF111.50 / 100 ml
Contents: 10 ml
Item number: SW15144
Available now 1–2 days (A-Post)
Sexy Jil Nail Polish (10ml) alessandro Sexy Jil is a dark red nail polish with metallic...
more
Sexy Jil Nail Polish (10ml) alessandro
Sexy Jil is a dark red nail polish with metallic pigments. The varnish shimmers easily and is enormously shiny. The deep dark red color fits to almost every outfit and makes your fingernails a real fashion accessory.
The easy application and the high covering power make the nail polish especially popular. Alessandro combines the latest technologies with trendy colours and thus produces high quality nail polishes with a long lasting hold.
Advantageous
nail polish is without animal ingredients and has not been tested on animals - vegan high
coverage - no need to apply several times
- can
be used up to 5 days
without Base Coat no
discolouration on the fingernails easy
application thanks to creamy texture Precise
brush allows easy and precise application
ApplicationScrew
the brush out of the nail polish bottle. Strip off some of the excess paint on one side. Then place it in the middle of your nail.
With a careful movement, push it towards the cuticle. Stop the brush just before. Make sure that you paint as far as possible to the edge of the nail. But not too far, so that you don't paint the cuticle as well. Then pull the brush over the nail to the tip without stopping. You have now painted a middle, broad stroke on the nail. Now you repeat the method for the left and right side, which is still free. Done!
Then apply a Top Coat. This protects your nail polish from scratches and extends the durability. If your fingernails are uneven, we recommend that you apply a Ridgefiller or Base Coat to your fingernails before painting. This fills the unevenness and makes the nail polish look even.
ProblemYou are
looking for a nail polish with WOW-effect? You want to turn your fingernails into a fashionable accessory? It should be an easy to apply, high-quality nail polish with a long lasting hold? You want an additional effect, like metallic shine?
Then you have found the ideal nail polish with the Sexy Jil. The wonderful dark red attracts attention and shows trend consciousness. In addition, the shimmering particles give your nail that certain extra.
CompositionThe
special composition of alessandro nail polishes enables the brand to produce nail polish without animal testing and animal ingredients. The latest research and developments also make it possible to dispense with 7 additional ingredients. These are: Dibutylphthalate (DBP), toluene, formaldehyde, formaldehyde resin, camphor, parabens, and xylene.
TipDid
you paint yourself a little? The nail polish sticks to the skin? Then you can simply remove it with the nail polish remover pen. The pen enables you to work with pinpoint accuracy. The nail polish is only removed where you want it to be. No need to repaint the entire nails.
| | |
| --- | --- |
| Brands: | Alessandro |
| Product type: | Nail polish |
| Ingredients: | vegan |
| Desired colour: | red |
| Target audience: | ladies |
Links related to "Sexy Jill Nagellack (10ml) alessandro"
Customer review for click&care: Sexy Jill Nagellack (10ml) alessandro