Baby Blue Nagellack (10ml) alessandro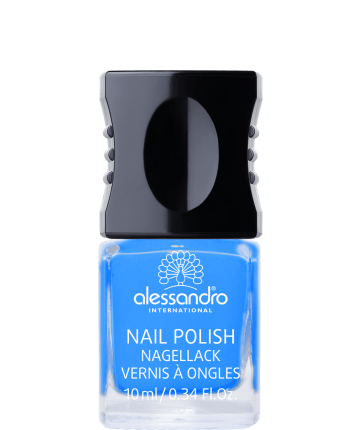 This item is currently unavailable!
Price incl. VAT plus shipping costs
Basic price: CHF142.00 / 100 ml
Contents: 10 ml
Item number: SW15119
Stock: Currently unavailable
Delivery time: from 5 business days
Baby Blue Nail Polish (10ml) alessandro Beautiful, light blue nail polish from alessandro....
more
Baby Blue Nail Polish (10ml) alessandro
Beautiful, light blue nail polish from alessandro. The high-quality nail polish offers enormous covering power and long hold. The new, special brush makes the creamy nail polish even easier to apply.
Innovative formulas and the latest scientific knowledge make the alessandro nail polish so special.
The delicate light blue colour is perfect for summer and winter. Due to the high pigmentation, the nail polish can be applied without a base coat and a second coat can be applied over it.
Advantages
vegan - all alessandro nail polishes are without animal testing and without animal ingredients thanks
to the good pigmentation, alessandro nail polish offers very good coverage
long durability, up to 5 days
of bright color free
of sulfates the
high quality of alessandro polishes prevents coloration on the nail the
creamy texture makes it easy to apply the nail polish streak-free
Application
Before you start with the varnishing, you should make some preparations.
Your nails should be free of nail polish. Remove even small residues thoroughly. Additionally, you should push back the cuticles. This will allow you to apply enough nail polish to the fingernail.
To start, take the brush on the nail polish. Brush it off on one side of the bottle neck of the nail polish bottle. Now place the brush in the middle of your nail. Push it very carefully and exactly in the direction of your cuticle. Just before you do, stop and pull the brush back over the nail, to the tip. Do exactly the same with the now created gaps on the left and right side of the nail.
If you paint something on the side, you can correct it afterwards with a nail polish remover pen.
Problem
You are looking for a trendy blue nail polish? You don't want to compromise on quality? You want long-lasting colors and intensive shine? You want to be able to use the nail polish with or without base coat?
Then the Baby Blue nail polish is the right one for you!
Composition
Latest research allows alessandro nail polishes to be free of various substances and ingredients.
Alessandro can now proudly present the 7-free formula. This involves 7 ingredients that are not found in the nail polish. These substances are: dibutylphthalate (DBP), toluene, formaldehyde, formaldehyde resin, camphor, parabens and xylene.
Tips
Do not use hand cream or greasy care products for the hands before painting. This impairs the durability of the nail polish on the nail.
| | |
| --- | --- |
| Brands: | Alessandro |
| Product type: | Nail polish |
| Ingredients: | vegan |
| Desired colour: | blue |
| Target audience: | ladies |
Links related to "Baby Blue Nagellack (10ml) alessandro"
Customer review for click&care: Baby Blue Nagellack (10ml) alessandro